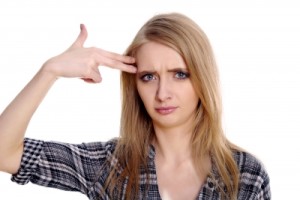 I've been the parent of children with special needs for 15 years and it has gotten much easier to deal with both at home, and in public. While I've spent many years keeping to myself about everything related to my life, because of – or in spite of, my children's medical diagnoses, I've also been an advocate and informer when and where I could.
The majority of people do not understand what it's like to live with being the parent of a child with special needs. It doesn't even matter what your child's issues are, the feelings that parents have all boil down to being the same set of emotions. While I can't possibly explain to every non-special needs parent, I can give you my top 10 list of things to know about us. So, here goes:
Ten Things to Know About Parents with Special Needs Kids
1. We are not given only what we can handle! I personally don't hear this much, but I know lots of people do – especially those in the church crowd. " God will only give you what you can handle" and " Special parent get Special kids" are two of the more popular lines. If you've seen the news over the last few months, you'll know that there are plenty of parents who are not dealing well with their child's disability and have broken down to the point of self harm and even death for their special needs kids. It's very sad.
While the majority of us are handling it, we aren't doing it any better (or worse) than you might. We don't get a manual (just like typical parents) about how to raise our children. While those comments might sound like a compliment to us parents of special needs kids, it's actually dismissive and can add guilt to our already overwhelmingly guilt ridden parenting. It feels like you are telling us that we "have" to handle things – that we are supposed to know how. But, we often don't. We guess, just like most parents do.
2. We often need more child care than typical parents. But, it's harder (sometimes impossible) to find qualified child care for our special needs kids. Since our kids may require medical attention, or special supports while out in public and even at home, finding someone who can provide those qualifications is often nearly impossible and has to be scheduled weeks or months in advance. We usually can't just send our kids to "grammas" for the weekend. Sometimes,  family and friends won't even try to watch our kids for a few hours from fear or lack of experience.
3. Please do ask about our special needs – with an open mind.  I'm happy to explain what autism is, or how it affects my daughter now that I've dealt with it for years. When I was a younger special needs mom, it wasn't that I didn't want to explain, but that I didn't fully understand it myself. In fact, please ask, rather than just assume that my child is undisciplined or that her actions are without consequence. Believe me, I'm fully aware of your judgemental stare and would do much better at calming my daughter (and myself) if you would smile and offer help, rather than assume I'm a bad parent when my daughter starts to melt down in the store.
4. Retarted is not a good word. I know that it's the word you are accustomed to, but it's really used out of context so often that it's become inefectual and sometimes downright offensive. While I don't' expect you to know that my child has Autism or OCD just from looking at them, I do expect you to be kind and respectful. I would not ask you " are you retarded or something?" just because you don't know how to lock the bathroom stall door. I would offer to hold the door shut for you. So, please don't do that to us or our kids.
5. Just because they don't talk they can't communicate – False! My daughter is actually verbal and can talk, but sometimes, she's too overwhelmed with the visual, audio or other sensory input to be able to use her words clearly. So, she will resort to using sign language of a sort. She might rub her tummy to indicate that she's hungry, or will point to what she's trying to say or do. Some kids use electronic devices like iPads or phones to communicate. They can push a button or two and the device will speak for them. When my daughter is especially excited or happy, she will clap and jump up and down, though she might not smile when she's doing it. The lack of smile may confuse people who don't know her. So, it's okay to ask if she's excited about something.
6. You should take care of yourself. Parents need self care, but when you suggest something that is just unrealistic like taking a vacation for the weekend without the kids, or getting to the spa, it's rather insensitive. I've not had a vacation in years because I can't get reliable care for my daughter who has autism. I also can't afford it because I get to work only part time due to that lack of reliable and qualified child care. But, even more than that, we are busy with doctor's, and therapy appointments. My daughter has at least 3 standing appointments per week, and while she's gone, I'm busy getting household chores done, and maybe I can get away to grocery shop.
Rather than suggesting to a parent of a special needs kid to take care of themself, you could offer to help in some way. You could bring dinner one night, or offer to sit with the kids for an hour or two. And, if you make the offer, don't expect it to be returned. Make it a true gift of your time and effort. The last thing we need is help with an expectation – that just ads to the guilt and stress.
7. Don't make suggestions based on what you read or heard "somewhere". I'm sure you are trying to be helpful, but unless you live with us 24/7 , you can't possibly know what we already know and what we are comfortable with. How about you ask the parents if they want to know about new things that you come across, because  you care and want to help – if it will be helpful. When you ask, you acknowledge that you don't know as much as the parent does about their situation, but let them know that you want to be involved as long as it is helpful to the parents.
Don't be offended if they turn you down. Many parents are overwhelmed with information after a diagnosis and your input might just add to the mountain they have to sort through. For seasoned parents, they may already have trusted sources that they get their information from.
8. Those kids don't have a problem, they just need discipline. Many kids who have an invisible disability like autism or ADHD actually can't  control their emotions like a typically developing kid, and children with sensory disorders sometimes have reactions to small changes in environment that seem bigger than necessary. Those kids have a physical reaction that they can't control, and often the parents can't do much about it. Parents of special needs kids are often feeling anxious and exhausted. Offer to help in some way – by carrying their stuff out of the store for them so they can remove the kids from the environment. Hold the door open, or at least smile with some sympathy, rather than judgement.
9. "I know your life is so hard, I could never do what you do." I call bullshit on this statement from all my friends. People start to assume that you have a really hard life every day, that there's never anything to celebrate and that everything is a battle to be won or lost. That just isn't true, and you should ask, rather than assume.
I do not feel like a superhero any more than another parent on my block does. I do feel lonely and unsupported some days, but that might come from being a single parent or being in a bad marriage just as much as from being a parent of a special needs child.
10. Don't say anything – ignoring me and my kids is the worst thing you can do. We are human beings – people. With feeling! If you don't know what to say, that's okay, but don't ignore us. I often feel like I'm the only grown up on our little special needs island and you ignoring me or my kid with the odd behavior is only making that worse. What happened to being friendly?
Can you please find some extra bit of patience to let us get through the line at the counter, and maybe help hold the door for us when I have to manage my shopping cart and hold my kid's hand?
If you give us a minute, you might find that my child has a beautiful mind. She can make you smile when you least expect it.
Now that you have an idea of what parent of special needs kids are going through, can you think of how you might react next time you meet these parents? Have you seen good behavior and responsible citizens in your local neighborhood? I'd love to hear about it, so leave a comment below.