I think homework should be banned! School is hard enough now without the addes stress to both kids and their parents of trying to get hours worth of homework done. Throw in ADD or ADHD and it is not just a battle, but a war.
How ADHD affected our family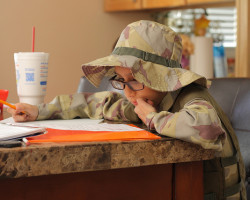 In 5th grade my oldest daughter's ADHD finally showed up loud enough for the doctors and school to admit there was an issue. For years, we saw that she couldn't sit still, talked too often in innapropriate situations, and had no voluum control for her own voice.
But, it wasn't until she nearly failed math and we had both beaten ourselves up over homework struggles, that she was diagnosed with the "worst case I've ever seen" of ADHD by her family doctor.
Let me paint a picture of what that year looked like. 
She would come home from school and I'd ask her if she had homework. She'd say one of two things.
Yes, but I left it at school = in which case we would hop in car and drive like crazy back to school.
No, but then later remember that she did actually have some work to finish.
Her frustrations at not remembering the work manifested in beating herself up litterally and figuratively. She would bang her head on the wall or hit her head with her fists out of frustration and anger. Her self esteem plunged and we started hearing how she was "so stupid". Her words, not mine.
When she did remember to bring homework home and I tried to help her with it, she either couldn't seem to get started or argued with me about the way I was doing it. That made me frustrated – and angry. Which then brought on the guilt for both of us.
I felt like the worst mama in the world. 
We ended up trying medicine for her ADHD and it helped. It has also taken lots of counceling and behavioral therapy for her to get better. Behavioral therapy helped to;
make her aware of the places, spaces, thoughts that were tripping her up
help her develop new habits that supported the weak spots
Symptoms and behaviors of ADHD kids
There are two big issues I'll address here, but there are many more and they depend on your child's own version of ADD.
1. Hyperactivity. This shows up in a couple of ways that most people aren't aware of.
One way is that the kid can't concentrate on one thing for very long. Their body has to move, their mind moves faster (which the real concentration breaker). If the homework subject is already hard, sitting still is not going to help.
The other way is that they become so hyperfocused on one thing that they can't shift their focus to anything else. This seems to be a cousin to Obsessive behavior.
2. Organization is another problem. The kid gets the work done, but then somewhere between the table at home where they were working and the classroom, it gets lost.  With my daughter, her papers would be thrown on the floor of her room, or shoved without thought into her school bag. That makes it hard to turn in assignments on time or at all.
How to help your child with ADHD to do their homework
Support your kid – make a committment to do as much as you can to help your child with their homework. That might mean choosing the best place in your home for her to do the work.
A quiet, distraction-free space is great.
Make it the same place each time. This makes it easy to remember (habit forming) and reduces anxiety for all.
Turn off the tv, but you might leave on a radio quietly playing in the background.
Ask for a second set of books to keep at  home. This is especially easy to do if you have an IEP for your kid.
Find the teacher webpage where assignments are listed daily, and check it – or make your kid check it.
Talk to the teacher – Teachers can be overwhelmed and if they don't know what's going on at home, they can't help. They probably have other students with the same situation and can offer some tips or suggestions on how to help your kid do homework.
Schedule regular conferences with them -outside of the yearly IEP meeting.
Ask for a weekly printout of homework grades. Many school systems now use an online content management system such as PowerSchool, so you can log in and see exactly what's done, due or needed by the teachers.
Most teachers use email now. Ask for a weekly follow up on behaviors they seen in the classroom – or anything else you need to share with the teacher.
Read out loud – Sometimes reading silently just creates a space where your child's mind can wander.
Have them read their work out loud.
Read to them out loud.
Work through any steps or instructions by saying them out loud.
Homework folders – We tried this with my daughter and it didn't always work, but it might for your kids.
Make a folder where all assignments are kept as soon as they are done. When they get to school, they pull out that folder and find the assignment for their class to turn in.
Adjust medication dosage – Kids on ADHD meds find that they wear off by the time they come home from school and need to do homework. Ask your doctor if you can adjust the dose to accommodate time at home for homework.
With medication and lots of trial and error of supports, my daughter is now in high school and doing well. She's not perfect with organization or memory and she still talks way too loud most of the time, but she's not failing school or beating herself up over having ADHD symptoms.
What have you done to help your kids with ADHD?
photo credit: jbloodgood via photopin cc