Sometimes, it takes knowing just one word to put together a solution for the problem. Of course, sometimes it takes more than just one word, but you'll see what I mean soon enough.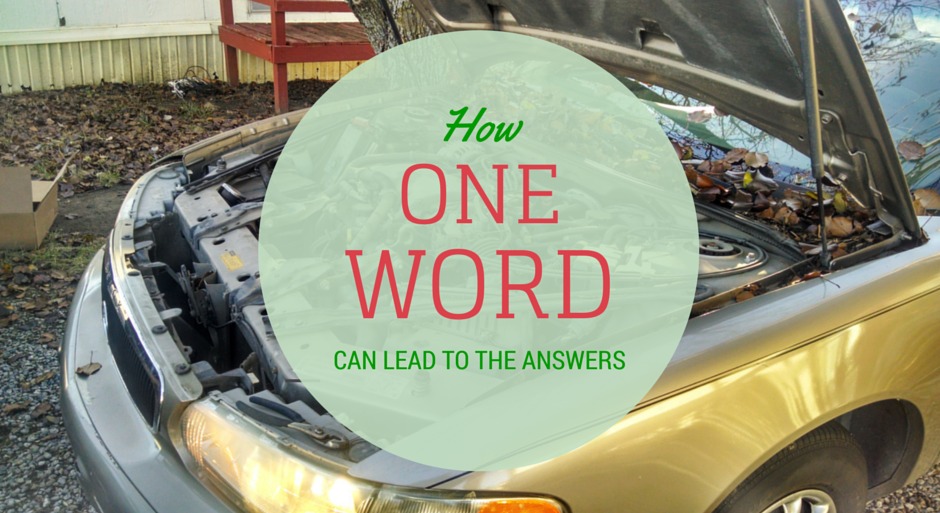 My mom's old Buick Century has been having issues for quite a few months. Intermittently, it would neglect turning over.
It left my daughter at school stranded a couple of times, and then myself and the younger daughter outside in the frigid November air for at least 10 minutes before it decided that we might not want to lose our fingers to frostbite. (yes, I think this car might have a personality. A not so nice one)
Mom managed to get it to the mechanics before it quit for good, and they said it was her starter, but we were certain that it wasn't. Regardless, she didn't have the money that they wanted her to pay to fix the starter that we didn't think was causing the issue. (follow that?)
So, we waited.
One day, it just wouldn't start. No matter what position the wheel was in, or how gently we turned the key. It was done. For the last 2 weeks or longer, the car refused to start at all.
My ex came and spent Saturday taking off the starter, checking the steering column for wire issues and we thought we had it narrowed down to needing a new part.
But when I called around to ask what it would cost to have that part replaced by someone who knows what they are doing in regards to electronics, I was told by an elderly sounding locksmith, that he didn't touch issues regarding the "security system" on those cars. I'd have to call the GM dealership.
Well, he's the first person to mention this! Mom had someone else do other work to her steering column before these issues started. He never said anything other than having to wait 10 minutes after misfiring the key in the ignition. Whatever that meant.
I promptly called the ex and asked what he thought. He reminded me that he had noticed the security light being on. I wanted to smack my forehead.
So, I went to the All-Knowing-Google! She knew exactly what I was looking for when I typed in security light Buick century.
The first listing was to a forum where you can ask questions of certified GM mechanics and someone had already asked about this same issue we were having. The answer was clearly typed out. It was a matter of following some rather boring instructions on turning the key back and forth in the ignition with a specific amount of time to re-set the security function of the car.
It was all kind of funny. The car thought we were trying to steal it. Silly car. I told you it has a personality.
So, 45 minutes after starting the follow-through of the steps, the car worked. It turned over. We did have to charge the battery, but it worked. Patience and knowing that one word made all the difference in our lives. Without it, my mother would have spent untold amounts of money to either chase a fix or buy a different car.
This leads to my other example of knowing the right thing, or that the "thing" has a name.
You may know that I've been an active parent to my girls. My 13-year-old has autism. She has quite a few other behavioral and emotional issues that go along with it. All of them can be incredibly challenging. My mother and I have spent hours upon days, upon years learning about her and about ourselves. I have incredible amounts of self-awareness, let me tell you. Even Nove's therapist recently said that about me and she barely knows me, so she had room to be surprised.
In the last few months, there's been a new family in our lives. The parents hadn't been told about autism – or at least not as it might apply to their son. But, the first time I met him, I knew. My long years of experience sent the sirens blazing inside my head. My older daughter had the same reaction when she met him.
Since that first meeting, the Dad and the Son had a chance to be around us more and the Dad apparently has had his eyes opened up to a whole new world when it comes to his son's behaviors. They are even asking questions and taking into account how I've handled the same types of behaviors from my Nove.
My advice to them is to try it. If it works, great, but if it doesn't don't give up either. It takes years of unlearning a learned behavior and/or reaction for typical people. Throw autism into the equation and you don't know what will happen, so the only thing to do is keep trying.
I've had lots of interactions online with other parents over the years where they told me how fabulous I am with my daughter. Somehow, It was hard to see it until someone was right in front of me seeing it themselves for the first time.
So, in this case, like my first example, one word can make a difference. Autism.
But, unlike with the car, that word doesn't fix anything, or even lead to a solution that fixes anything.  Some things take a lot of research and aren't just the first link in Google.