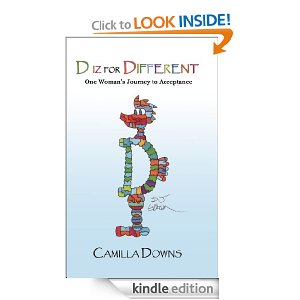 With Christmas approaching quickly, we are sharing again some of the great books written by our radio show guests from this year. Lets start with Camilla Downs, a single mom and best selling author of D iz for Different.  During our interview with Camilla, she shares her children's medical diagnosis, and the process of writing the book. This book would make a great gift for the holidays for both kids and parents.
This A to Z inspiring memoir recounts Downs' journey to acceptance of herself, her daughter's genetic abnormality of 18p- and becoming a single mom. Through Downs' realization's we learn that accepting ourselves and our situations is the key to being able to accept others, tap into our vein of courage and live in the present moment. Downs details her journey with the methods and thought process that led her to achieve true acceptance and genuine happiness. You'll learn ways to redefine your thought processes and belief system by applying the practical, insightful "Tips for the Journey" at the end of each chapter.
Whether you need to decrease stress and worries, or increase self-confidence, this powerful book will help you make changes for the better and realize you are not alone. Begin your new journey today!
Buy the book at: Amazon
Author Interview: http://www.blogtalkradio.com/specialneedskids/2013/06/26/author-camilla-downs-d-is-for-different-interview
Sites mentioned during the show:
Julie and I have started up a closed group here on facebook just for parents and caregivers of special needs kids. We would love to have you! https://www.facebook.com/groups/specialneedskidsparentsuportcoaching/