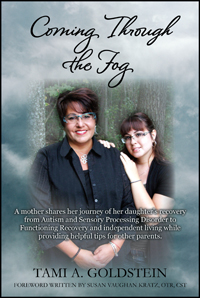 Today, I interviewed Tami Goldstein who has written Coming Through The Fog, in which she shares her recommendations for other parents as she tells the story of Heather, her daughter's, functioning recovery and the journey through autism.

Tami shared some great tips, and resources today with me during her interview and I learned that a therapy I used several years ago for my fibromyalgia, can -and does- help people on the Autism spectrum!
So, Please listen to the interview (scroll down for the player – or use the player on the right sidebar), it's only 30 minutes. You can click through to the blog talk radio page and download it so you can listen on the go.
Then, after listening, go buy her book (links below), and Check out the resources that were mentioned during the show.
Resources:
CranialSacral Therapy: find a local therapist at the Upledger Institute.
Sensory Processing Disorder Foundation
Contact Tami for speaking engagements, information, or a therapy appointment!
Coming Through the Fog: A mother shares her journey of her daughter's recovery from Autism and Sensory Processing Disorder to Functioning Recovery and … providing helpful tips for other parents. (Paperback)
Coming Through the Fog: A mother shares her journey of her daughter's recovery from Autism and Sensory Processing Disorder to Functioning Recovery and independent living while providing helpful tips. (kindle)