How is Autism Diagnosed?
Every family has a different path to Autism diagnosis. For us, it was because my daughter's teacher had the guts to tell us something wasn't right with Nove. Her behavior in the classroom didn't match up to the rest of the kids, and it was bad enough that she was having trouble in every aspect of school.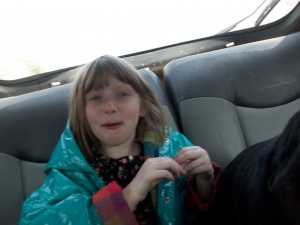 The path after this wasn't that easy. We talked to our doctor and he told us we needed a counselor or therapist. If you've never had to do this, you don't know what to look for, or who to ask for. Eventually, we found the right person. He had a son with autism too. But, as I've described before, my daughter didn't have all the "typical" signs of autism, so it wasn't a cut and dried case.
The signs and levels of Autism vary in each child. This can make getting a diagnosis difficult. Children on the higher level of the Autism spectrum may go years without being diagnosed, maybe into their teens or adulthood. There are may factors that go into an Autism diagnosis.
Doctors have a checklist that must be met before the possibility of Autism is suspected.
Some of the signs on the checklist include, poor relationships with friends, focusing on one thing for very long periods of time, poor communications skills, and insisting on certain routines, or rituals.
When we started therapy, it was clear that she fit those symptoms.
She slept in my bed still and insisted that nothing else be on the bed and that I be on the computer doing something when she laid down to sleep.
She would have a tantrum for hours – yes, hours of screaming and crying and sheer dispair.
She aranged her hot wheels and matchbox cars for hours at a time, but she didn't play with them.
When these signs are shown in a child the doctor will want to evaluate the child further. The doctor will question the child's parents, or any other people that have close contact with the child. You, the teachers, and any other caregivers will be asked to fill out some diagnostic forms. This shows if the behaviors are uniform in all social situations.
We still have to fill these out every 6 months or so.
Children also develop at their own rate.
While we were concerned that she hadn't talked clearly by age 4, we figured it had to do with her older sister doing all the talking for her. My oldest daughter was such a "little mommy". We hadn't lived in our town that long, so we didn't have strong bonds with doctors or the community yet. There weren't people to ask or other kids to compare her to.
So, we kind of let our concerns go…… Until she started Pre-Kindergarten and her teacher let us know we weren't wrong about our ideas.
There is not one test that can say definitely the child has Autism. It will require several appointments with different health professionals to rule out other conditions that could be causing the problems in your child. Often a child who is late to talk is suspected of having a hearing issue first. After this is checked then the doctor can move onto evaluating for Autism. Several health conditions can mimic the symptoms of Autism. Children always need to be evaluated for any other medical conditions that could cause the same symptoms as Autism first.
To receive an Autism diagnosis the child will be evaluated by her doctor, and a therapist (or several). The kiddo might be sent to a specialist. In our case, the specialist took about a year to see. There's only one in our area.
The Team
They will include the doctor, a psychologist, a speech therapist, a neurologist, and a psychiatrist. Once the child is evaluated by the team they will meet and compare their findings. Then they will have a meeting with the parents to discuss their findings . If the diagnosis of Autism is made, a treatment plan will be set in place.
Each child will show different symptoms of Autism, and the levels they experience it will be different. So it may take longer to get a diagnoses of Autism in some children. Once you have the diagnoses the most important thing is to start a treatment plan. The treatment plan will help make the life of your Autistic child better.
Treatment plans can include everyone – school, family, friends – and all aspects of life like physical therapy, speach therapy and occupational therapy.
What was your path to Autism Diagnosis like?