Nove has gone to school every day so far and that's a pretty major accomplishment for her (and me). So, when she asked if we could go shopping for a new Barbie doll the other night, I said yes. She hasn't gotten a new one in a while.
In case you don't know, Nove collects dolls like Barbie and Monster High dolls. She also has high functioning autism.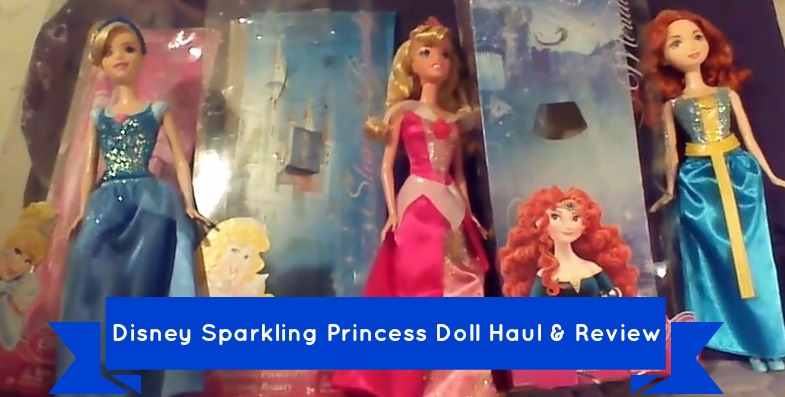 So, off to the store we went to see if they had the doll she wanted and if we could afford it. All the toys were on sale! She did find a Barbie that she wanted, but I found this line of Disney princess dolls that were even more on sale, so I pointed them out to her. They were buy 2, get one free! SCORE!!!
She liked them and was happy to get them instead of the Barbie. The hard part was choosing which Princesses to buy.
She took home Sleeping Beauty, Merida, and Cinderella. Merida is our favorite. If you don't know who she is, she's the daughter of the king in the Disney movie, Brave. Such a fun movie!
Anyway, she was so giddy at getting these dolls that when I suggested we do a video review like one of her favorite Youtubers, Mommy and Gracie, she agreed and could barely get through eating dinner!
So, without further ado, here are the 4 video reviews of each doll and then all of them together. There's even a guest appearance in the last video. None of the videos are longer than 3-4 minutes, I don't think, and I've included links to find the same dolls that we got.
———————————–
Disney Sparkling Princess Merida
Buy Disney Sparkling Princess Merida at Amazon
Buy Disney Sparkling Princess Merida at Walmart
Disney Sparkling Princess Sleeping Beauty
The Sleeping Beauty Doll apparently comes in several versions, and I only found the exact style we have at Amazon.
Buy Disney Sparkling Princess Sleeping Beauty at Amazon
Disney Sparkling Princess Cinderella
Buy Disney Sparkling Princess Cinderella at Walmart
Buy Disney Sparkling Princess Cinderella at Amazon
Disney Sparkling Princess Final Video: