Feeling Single & Alone
For the last eight or nine years I've always had trouble explaining that I was single, but had help and was in a relationship.  I don't remember the exact date we divorced, but I felt alone and single long before that. Anyway, it got confusing to explain, but lately, I've really felt like a single mom. I mean REALLY felt like it.
About a month ago, my mom started getting migraines again – or rather one really long episode migraine. So, she stays in her room mostly. I'm out of the house 3 days a week and sometimes stay at my boyfriend's house on the weekend, so if she's not out of her room the first part of the week, I don't get to see her much, let alone talk to her.
Single But Not Really Single
We fell into a routine of caring for my daughters many years ago, and until recently it's stayed that way. During the school year, she would be in the house, doing dishes, laundry, general housekeeping and she usually cooked dinner. Well, that was true even during the summer. But, when evening hit, I got to be the parent all on my own.
And it worked well this way. I joked often that I had a wife and she was my mom. Before you think I'm lazy, think again. My youngest daughter has autism – and a host of issues that often go with it. Anxiety, Oppositional Defiance Disorder, Encopresis , and Enuresis.
It took years to get her diagnosis and get all of us help. For years, she would have huge, giant, catastrophic meltdowns that took hours to get through. Daily. I was dealing with the schools, taking her to therapy appointments, doctors, and just trying to keep her occupied. I played much more Barbie than I'd ever like to remember!
My Mom, My Hero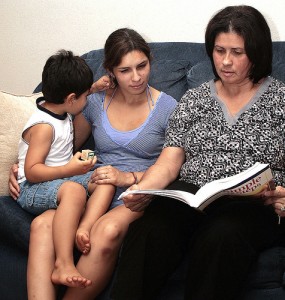 During those years, it was my Mom who kept me sane – mostly. My mom had a lot of the same behaviors that my daughter did, so it wasn't always my mom who got to be the hero for me. We all took turns rescuing each other from each other. Thanks to my daughter's diagnosis and therapy, my mother was able to get diagnosed for her life-long debilitating behaviors and health issues. She has generalized anxiety. She also has these migraines.
They are monster headaches, and they run in the family. I wonder if they were to dissect the brains of my mom, her sister, their father and me, if they would find some matching anomoly in all our brains? We all get these migraines that can put us down for days.
One of the memories I have of visiting my grandparent's home as a child is the strict reminders to "shhhh, granpa's laying down." Which meant he had a headache, not that he was tired from working 3rd shift or something.
For as long as I can remember, my mother was the same way. I'd often come home from school to find her in bed in a dark room sleeping, or awake enough to check in with her, but I knew I had to be quiet if I stayed in the house. I raised myself in many ways, and……. it's okay. I feel like it has prepared me for this time of life too.
Why I Feel Like A Single Parent Again
So, back to the present. It's been a few weeks,and my mom barely makes an appearance. Partly, it's because I bought her a laptop just before her desktop went ass-up, so she can access the internet from her room. But, it's also because she hasn't felt good.
This has left me to do all the things that she normally does. Doing dishes, doing laundry, and cooking. Two of those three are my least favorite things to do – ever. However, I'm not complaining. I'm realizing how much I valued the help all the years when Nove was in bad shape and I literally had no extra time to take care of those things because all my time and energy went into taking care of her.
This morning, I managed to;
unload and reload the dishwasher
wash/dry two loads of laundry. We have lots of laundry daily thanks to N's toileting issues.
Plus, I had a meeting with the special needs advisor about life insurance and managing to save money
and I went to the bank to get cash to buy Nove a new adult size 3 wheel bike.
There's still more to get done; phone calls to the school, the mechanics, and I still have to put away the clean laundry which is really the hardest part, right? I also need to get some meat out to thaw for a spaghetti dinner tonight. It's things like getting out meat to thaw that I find the hardest to remember because it's not what I'm used to doing.
But, better yet, I got all that done and I had time to write this to you, and to my mom, and to both my daughters. Without whom, I couldn't have gotten through the really bad times or been able to remember the really good ones.
Photo credit: http://www.flickr.com/photos/familymwr/4888532947/  + http://www.flickr.com/photos/chaparral/1224058709/