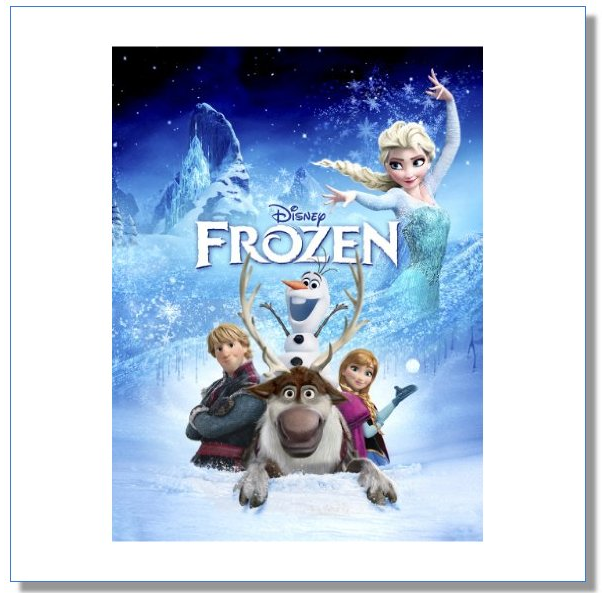 Frozen Inspired Halloween Costumes
Have you seen this movie yet? If you haven't at least heard of it, you must be living in a cave off the grid! Frozen has been featured and spoofed so many times that I'll bet it is the most popular movie ever. I still haven't seen it. Yeah, I know……. I do feel like I've watched enough youtube videos and heard the songs so many times, that I already know the story.
But, if your kids (and adults) want to be Frozen for this Halloween, you better buy costumes now. They may not last through Halloween!
Elsa
One of the main characters in the movie is Elsa. The Elsa costume is a beautiful light blue dress that has white snowflakes on it. It's similar to the one Elsa wore when she sang the popular, Let It Go song.
It flows as the person who is wearing it moves about, giving it a very queenly type feel. Along with the dress, you'll get a tiara that your child can wear. You might want to accessorize by buying some sparkly shoes and blue tights to complete the look. There are also wigs available that are styled to look just like Elsa's hair.
Disguise Disney's Frozen Elsa Deluxe Girl's Costume, 4-6X
Disguise Women's Disney Frozen Elsa Deluxe Costume, Light Blue, Small/4-6
Disney Store Frozen Princess Elsa Costume Size Medium 7/8
Disguise Disney's Frozen Elsa Child Wig Girls Costume, One Size Child
Anna
The next main character in the movie is Elsa's sister, Anna. Like the Elsa dress, the Anna costume is also a beautiful dress. The blue is a darker hue than Elsa's dress and it comes with a cape that can be easily removed.
The cape is a great way to keep your daughter warm as she has fun on Halloween night without needing to add a bulky coat over her dress. Anna's costume doesn't come with a tiara like Elsa's does, but you can add a tiara to complete the look of the costume. If your child really wants one, there are wigs available for the character Anna, too.
Disney Frozen Enchanting Dress – Anna
Disguise Disney's Frozen Anna Coronation Gown Classic Girls Costume, Small/4-6x
Disguise Disney's Frozen Anna Deluxe Girl's Costume, 7-8
Disney Store Frozen Princess Anna Costume Size Medium 7/8
Olaf
After Elsa and Anna, one of the best-known and funny characters in Frozen was Olaf. This cheerful snowman was a faithful sidekick to Anna and showed kids the importance of friendship. The humor and friendship are the main reasons that kids loved this little character.
The Olaf costume is a white jumpsuit with a hood. All you need to do is slip on a long-sleeved white or brown t-shirt then put on the costume. You'll look just like Anna's adorable companion. For shoes, you can opt for white booties or just wear white slippers.
Disguise Baby's Disney Frozen Olaf Deluxe Toddler Costume,White,Toddler M (3T-4T)
Disney Frozen Olaf Character -Adult Costumes Pajama Onesies ( Medium)
Disney Frozen Olaf Cuddle Pillow
Once you've put together the Elsa or Anna costume, you can accessorize with Frozen-themed jewelry. Don't forget to include gloves! Elsa wore gloves throughout the beginning of the movie, even during most of her coronation ceremony. You can find Elsa's gloves in light blue or white satin. Both will look just as beautiful with the Elsa costume.
As for Anna, don't forget to wear a hat and earmuffs to get the look just right. Anna also wore boots and mittens during much of the movie so keep that in mind as you pick up these accessories.
Disney Frozen Crown Tiara and Wand Set – Silver with Blue Elsa and Anna Heart Jewel
Disney Frozen Elsa's Magical Musical Gloves
Disney Frozen Long Elsa Costume Gloves
Do you want to build a snowman? I mean, will you be wearing Frozen costumes this Halloween?