Hi. I will not state the obvious.
Okay, I guess I have to. It's been a while since I wrote. I have my reasons. Don't we all?
I'm back because I haven't written about Nove's progress in a while and since the school seems to have hit another wall with her, it's time to dump my fear and frustrations again.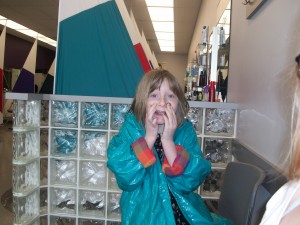 School is nearly over. We have, what, 3 or 4 months left? It has flown by mostly because I don't spend every day dreading that I will get a call from the school to come get my child. This is worlds better than last year. We have watched her work papers come home and can actually read Nove's handwriting now. It is possibly neater than her 12 year old sister's handwriting.
She knows her right and left and can accurately name them. She "gets" money even if she still isn't sure of which coin is which. She goes the bathroom unassisted when reminded, and often all on her own without a reminder.
So, what's gone wrong? Her teacher writes that Nove has been refusing to do her work. They have taken away her option to go spend time with the home room class, music and ……… well, whatever else they thought would work. Apparently nothing has. Welcome to the wonderful, wacky world of Nove.
They ask that we reinforce their efforts by denying Nove fun things at home when she hasn't done her work at school. They started sending home daily sheets with her behaviors and accomplishments (or lack thereof). Just this week the papers came home.  It took a few days to discuss and decide what to try at home, because, just like at the school, Nove doesn't always care about what she is allowed or not allowed to do at home.
We've decided that she'll get reduced time on the computer because that seems to be what she most enjoys. Last night she did not care. Tonight, the timer was set and she got off when it rang. No argument, no hissy fit.
She's not fighting going to school. She gets ready, seems happy, and even smiles and waves from her bus seat on some days.
The teacher said she doesn't think anything has changed at school to set this off. We've shared what has changed at home, but I don't believe it is the cause. The more I think about it, it seems to be an event, or person, or some thing at school that has set this off.
Nove isn't talking. I'm left hanging.