There are so many moving parts to our vacation and that at times I've felt overwhelmed by it all. But, thankfully, there's tons of information from people who go to Disney World often.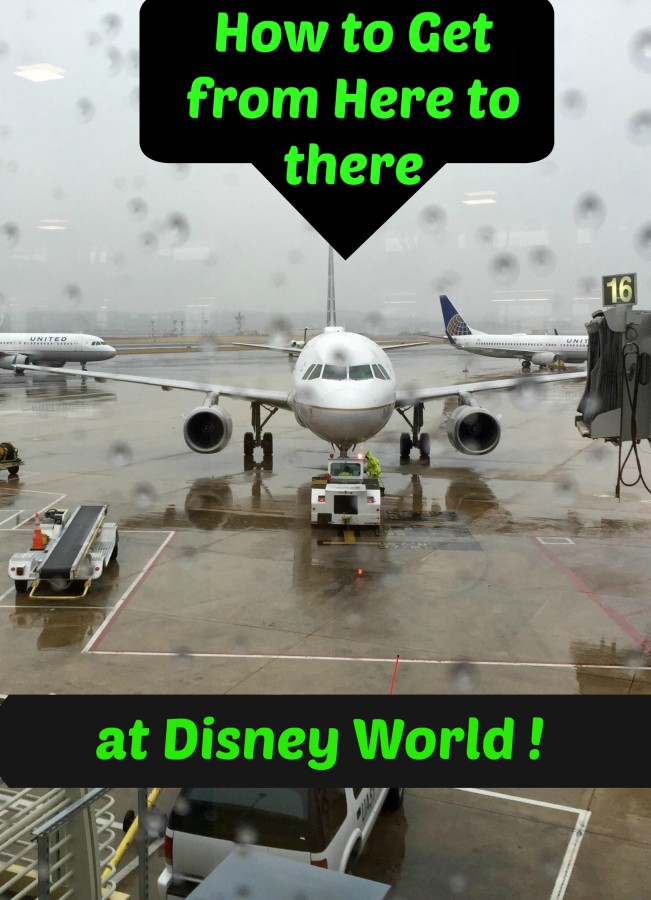 Our Disney authorized travel agent has been a huge help too. Any questions I have are answered quickly through email or a phone call. Believe me, I've asked a hundred questions.
Transportation at Walt Disney World
There's two aspects, or maybe three, to transportation at Disney World.
Getting to Disney World from Home
Getting around inside Disney World
Getting around inside each park
Getting to Disney world
Driving – Obviously, you can drive to Orlando and then into Disney World. This is great if you live close by or if you have enough time to do it. A drive from Kansas to Florida would take days, especially with no-one else to help drive.
Flying – This is the choice we are going with. I've flown before, but neither of my girls have flown. I've only done a direct flight and never had to switch planes with a layover, so this will be a new experience for me.
Nove has autism and some persistent sensory issues, but she loves wild and crazy rides, so I doubt that the sensations will bother her. My worry with her is how loud it might be in the plane and that she could get pretty bored during the two flights it will take to get to Florida.
Katlin is freaked out by the thought of flying – nothing under us but air. She's 17 and somewhat afraid of hights. She'll be fine, I'm sure.
My biggest worry is managing our transition from one plane to another without getting lost and without losing our bags. We'll have a couple hours to wait between flights on our trip out which is probably good, but I have no idea how far we have to go from one plane to another. I'm sure that time will go by pretty quickly.
The great thing about flying into Orlando's main airport is that Disney has a bus for guests staying at a Disney Resort called Magical Express. It's free and runs both to and from Walt Disney World and the airport.The only negative part of the bus option is that you have to leave your resort three hours before your scheduled flight departure.  Because of this, I chose a late flight home. We won't be leaving the airport til 7:30, which means leaving Disney by 4:30.
Getting to and from the parks and resorts
Disney World covers about fourty square miles from what I've read. That's as big as the town we live in! What that means is that you can't just walk from your resort to one of the parks.
If you drove your own car, it's not a big deal. You can drive from your resort on or off Disney World property to a parking lot for the park of your choice. But, if you don't have your own car, you are going to be taking one or more of the options below.
Monorail – The Monorail runs through the Magic Kingdom and connects some of the resorts with the park and the ticket and transportation center. It connects the Magic Kingdom theme park, with the Contemporary Resort, the Grand Floridian Resort & Spa and the Polynesian Resort.
Here is a video showing how wheelchairs are dealt with on the monorail. Wheelchair View of the Walt Disney World Monorail to EPCOT – November 2010
Bus – The Walt Disney Theme Park property is most easily traveled by bus. The bus system runs throughout the parks and to each and every resort on the property. It can accommodate wheelchairs and other assistive devices. 
Officially, they run from one hour before the theme park opens until an hour after it closes, but I've heard that they run much earlier and much later. Buses also run until 2:00 am from the Downtown Disney area. Busses are air-conditioned and can be a delightful respite on a hot day.
Boat – You might be surprised to learn that boat is one of the most common means for people to get around in Walt Disney World, the connecting theme parks, and the park's resorts. You can take a Ferry Boat from the Magic Kingdom to the ticket center. You can also take a ferry boat from the following resorts to Epcot and Disney's Hollywood Studios:
Disney's Boardwalk Inn and Villas Resort
Disney's Beach Club Resort
Disney's Yacht Club Resort
Walt Disney World Swan Hotel
Walt Disney World Dolphin Hotel
Ferry Boats also go from the following resorts to Downtown Disney:
Disney's Port Orleans Resort – French Quarter
Disney's Port Orleans Resort – Riverside
Disney's Old Key West Resort
Disney's Saratoga Springs Resort
And a good old fashioned water launch will take people to the Magic Kingdom from:
Disney's Grand Floridian Resort and Spa
Disney's Polynesian Resort
Disney's Fort Wilderness Resort and Campground
Disney's Wilderness Lodge
You can also walk, jog, or bicycle from resort to resort on many of the walking paths. All transportation is complimentary for ticket holders and park pass holders. Bus and boat stops are clearly marked and transportation runs continuously throughout the day. It's common to need to change busses to reach your desired hotel or theme park.
When you're at Walt Disney World take the time to enjoy all of the modes of transportation that are available. They're part of what makes a Disney vacation special and can be a comfortable and interesting way to get from one point to another.
Why Transportation Is Important with Special Needs
As I've noted above, there are some specific things to think about when you or your child have special needs. At Disney World, sensory issues are something that even typical people find to be an issue.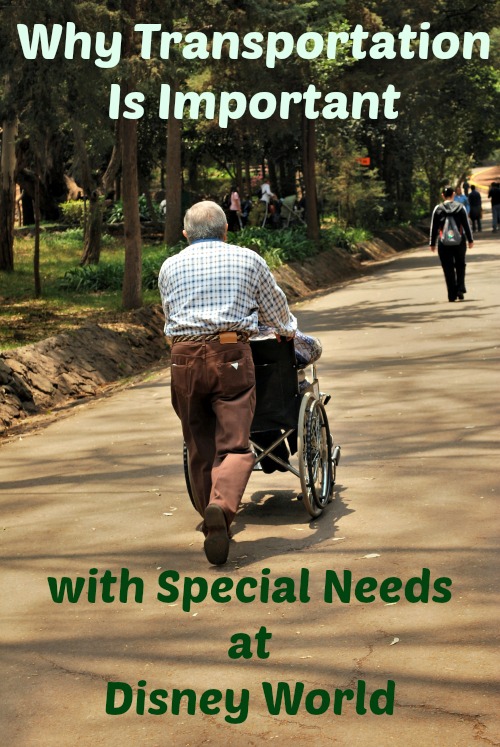 It can be loud on the buses and airplane, so having headphones or ear plugs are a must! But, visually, Disney World is extremely stimulating, so sunglasses or a hat with visor might help to calm down the visual senses.
If you or your child needs physical assistive devices like crutches or wheelchairs, Disney is pretty accommodating. You can bring your own or rent one from the parks. Here are some FAQ's about wheelchairs and other accommodations. 
When looking at Disney Resorts early in the planning stages of this vacation, I chose the Port Orleans Riverside specifically because it had boat rides. On our last day, we plan to ride the boat to Downtown Disney (soon to be Disney Springs) and spend the day shopping and eating, then ride it back before we leave.
I haven't mapped out yet, how we'll ride the monorail, but I think we should. The girls have not ridden on anything quite like it and while I have ridden the monorail in Vegas, I'm sure the views at Disney World will be worth it. Plus, it might make a great way to take a rest from walking all over the Magic Kingdom.
Another form of transportation not often mentioned, but that is worth noting is the Walt Disney World Train that connects Fantasyland, Frontierland, and Main Street by circling the entire park. It looks to be a 20 minute ride with stops at each area. I intend to ride this and hope the girls want to also.
I hope this helps others to start the planning process and to better understand the options available. Disney World is overwhelming. But, with the right understanding and planning, I'm sure it's a once in a life-time kind of fun!