How do you explain death to a child with autism? I thought we already had. I thought she got it, and maybe even understood it better than the rest of us. We've lost a lot of pets in the last few years because we tend to adopt the old and sickly.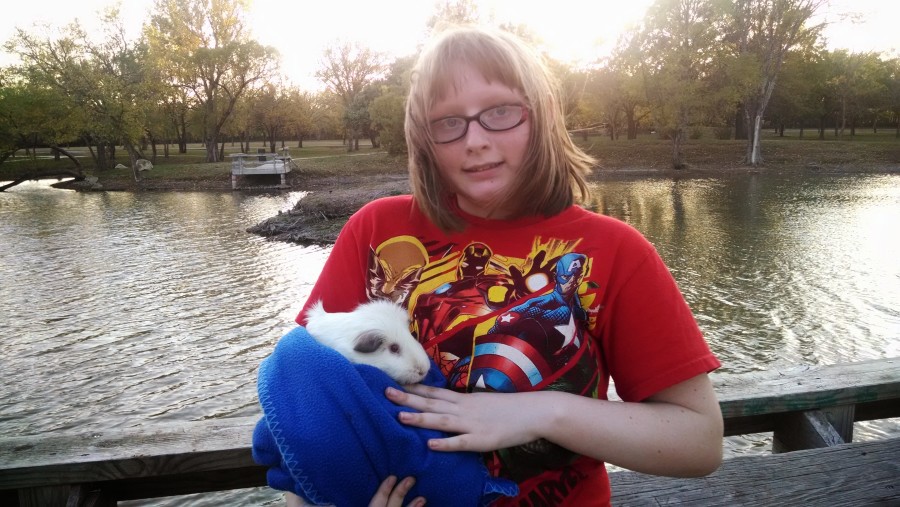 But, I was wrong. Last Thursday night we discovered that her favorite of our two guinea pigs had died. Pebbles was a white albino (with pink eyes) guinea pig. Apparently both of the pigs were males, but we always referred to Pebbles as she – Nove just always thought of her that way. And yes, we've made a few transgender jokes around here.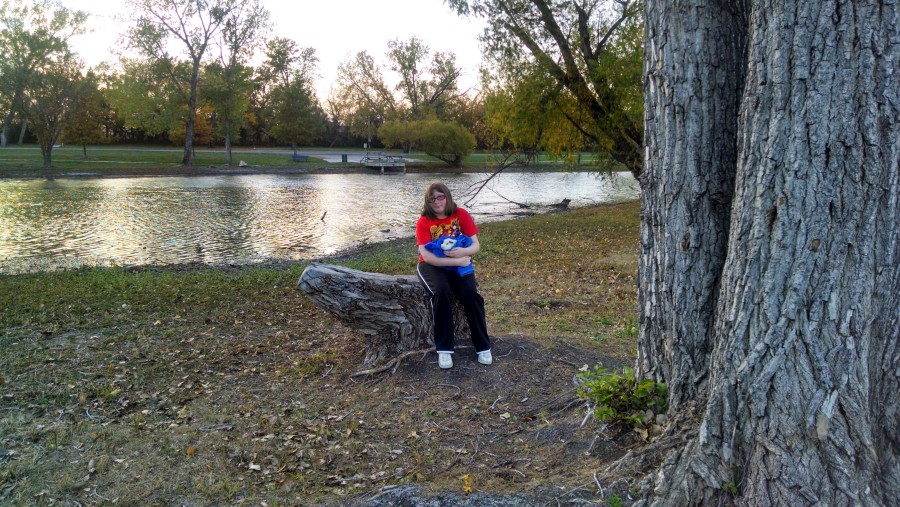 We knew when we adopted both of the guinea pigs that their life spans were short – something like 2 to 5 years at best. I thought Nove knew this. She probably did and does know it. But, the questions have come at me over the last few days. The incredible level of feelings which are escaping from my daughter are like a volcano spewing ash for a few hours, then nothing. Quiet and calm. Until there is lava and fire and roiling clouds of emotion again.
She has said:
I didn't know that guinea pigs knew how to die.
I still miss Buck (the basset hound)- A LOT!
It's your fault, mom. You and gramma should have been watching her.
Grampa never came back to (his town) and aunt L. took him away so we could never see him again.
Gramma Linda died.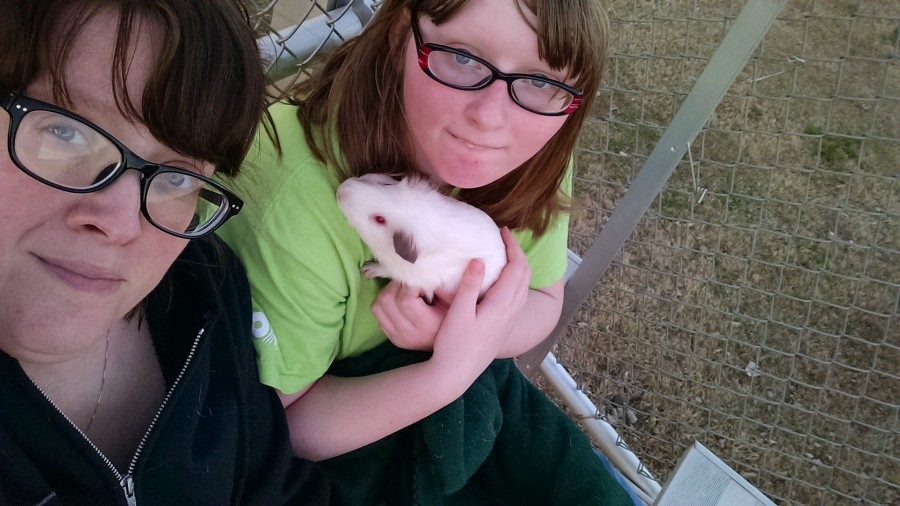 She's full of grief and I totally understand that. I spent all day at work Friday feeling this hole in my chest. Nothing like when my dog died, but a loss, none-the-less.
We expected this death would affect Nove more than anything else ever had. Pebbles was her constant companion – went to bed with her, snuggled with her, watched TV with her, went on bike rides in the basket, and even went to school a few times.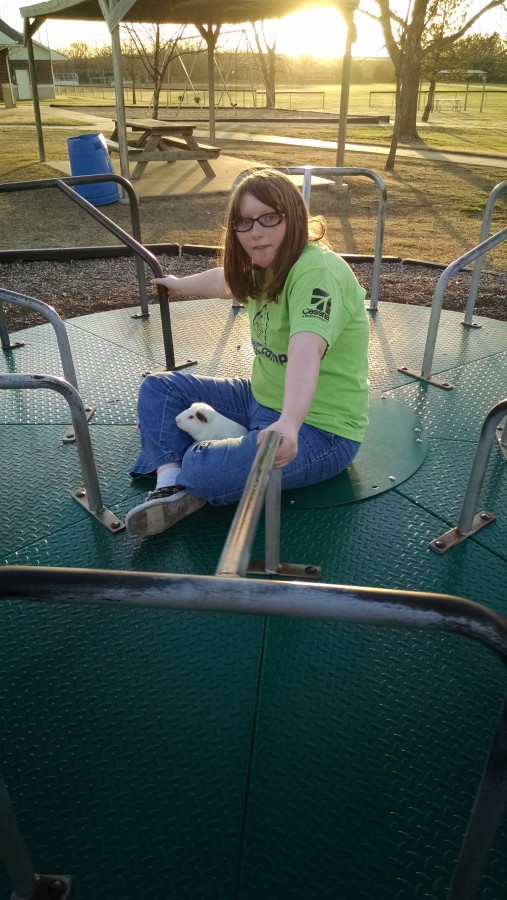 Nove doesn't cry often – she did not used to even notice physical pain, and when she did, had no capacity for expressing it. So, to see her cry in grief the last few days is at the same time heartbreaking and exciting for me.
Something has shifted and she is able to express her emotions at least to some degree. Sunday night, I was very angry at her (for lying to me) and my voice was raised – she was incredibly calm and asked me more than once to please calm down. In hind sight, that was unusual behavior. However, my anger boiled, and eventually, she broke.
She ranted at me for at least 30 minutes and it was a stream of consciousness that I've only heard a few times from her. The thoughts are so very mixed up in her mind – Those quotes from above, and much more that is so mixed together that none of it makes sense anymore.
I think it must be hard to live in her head some days. Today and next week get confused – yet, she knows what her routine is supposed to look like. Things like having been in the hospital for two weeks with pnemonia turn into two years in the hospital.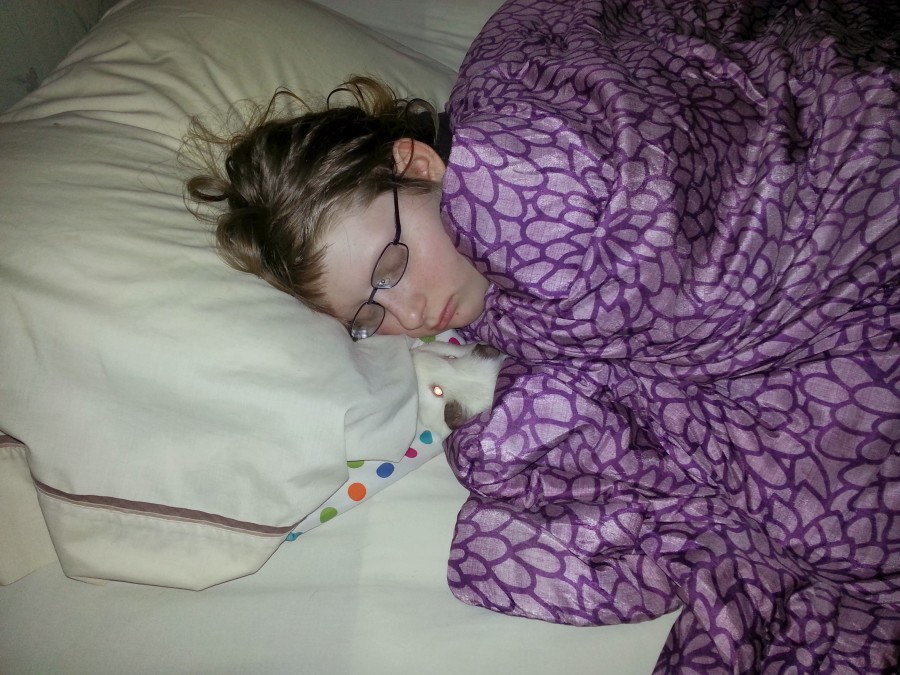 I've been able to share my own feelings with her when she's calm but no way to tell how much it helps yet. I've told her how sad I am that Pebbles is gone. We spent time looking over all the photos that I managed to take of them together and I've shared them with her. She knows that I miss putting Pebbles back in her cage at night after Nove has fallen asleep.
My routine has been interrupted too.