I'd like you to welcome our first guest post here on Special Needs Kids Talk Radio. Deanna is a mom to a special needs child, and I thought it was fascinating to read about how a toy changed her son's life. Sometimes that is all it takes, right? Read Deanna's story and be sure to leave her a welcome in the comments section.
Laser Pegs: The Educational Toy that Changed My Child's Life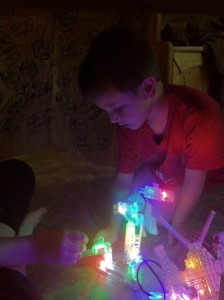 I had a long intro leading up to what I am really trying to say, which is: I love Laser Pegs. And my kids do too. Light up building blocks, it keeps them entertained for hours, and let's be honest me and my husband, too. I had seen them on Pinterest and pinned them to the board "great for the kids" but forgot about them until I saw them at Target. Best money spent in a while.
What is so great about Laser Pegs?
For starters, if you step on them you aren't in an incredible amount of pain like with some other click-to-connect toys.
They come in a variety of sizes, shapes and colors that connect easily and are taken apart without much effort. Even three-year-olds do it with ease.
They illuminate. A robot is cool, but one that lights up? Way cool.
They are great for development. (I'll explain in a bit)
Laser Pegs aren't just fun for your toddler, but all ages.
They work for and with all children, especially those with special needs.
The last point is a very dear one to me. Not only did I grow up around special needs children but I have worked with them in German Kindergartens and Summer Camps until I had my first child in 2003, and I now have a special needs child of my own. He has severe inattentive ADHD, Oppositional Defiant Disorder and Receptive Language Disorder in addition to other potential disorders. Finding a toy that not only keeps my step son's interest but is educational and puts a (good and fun) twinkle in his eye is just wonderful to me as a parent.
Developmental Benefits
Visual Attention and Processing
The bright and different colors combined with lighting up is just fun. Not just for him but also for the girls. Combining colors and shapes, creating something big that has a form and shape out of small pegs fosters the process and visual attention to detail.
Imagination/Pretend Play and Creativity
One thing my (step) son doesn't like is playing by himself or playing for any prolonged period of time. It's rare that he finds something to be interesting enough to devote any attention. Laser Pegs however, have kept him entertained ALONE for up to an hour which is HUGE for us. He creates, destroys and creates. It's amazing.
Problem Solving
This is great for us, because normally he throws his toys, pouts or gets mad when they don't do as he hopes. Since they are easy to put together, but can be challenging he gets instant gratification while he is working out trial and error. There is still a reward.
Part/Whole Relationships
This is in theory meant for logic, and how things work together. We use it as examples of family too. We built the bug and then take away parts and explain how that affects the bug, just like taking something or someone away from family affects them. There is a lot you can explain with light up pegs if you are creative enough.
 Counting/Beginning Math
This works in our favor as he likes to count and he likes numbers. He counts the pieces it took to make something, I ask him to count individual colors and we use it for basic math. It's more fun when you have 10 lit up pegs and take 4 away than just having numbers on a piece of paper.
 Attention to Detail
This is huge. While they can be easy to play with, they also have difficulty levels since they have whole sets and play tables to work with. I also have my eye on some that let you record sounds. This way he has to put his mind to it, come up with a plan, follow instruction and ask for help if needed. He has an end goal he works towards and it promotes teamwork which is good for us. Manners, confidence, closeness all relate to attention to detail.
These are just some of the many developmental benefits these toys offer, but sharing some of my experiences can help you relate the benefit to your children. As children get older they can do more complicated sets, come up with their own ideas and use different skill sets to accomplish the goal. One big benefit in my opinion is teamwork. It doesn't have its own bullet point but I do believe if you have more than one child and a few building sets it can absolutely foster teamwork and collective thought. It is one of the few things all three want to do together and put a collective effort forth to accomplish.
Demystifying the Search for Educational Toys
Trying to narrow a search for a good toy in a flooded market for children was quite the task. We as parents, grandparents, aunts and uncles want to give our children toys they have fun with, are entertained by (longer than 10 minutes) and ideally foster creativeness and provide some educational benefit. I found it with these building sets after I saw and picked them up at Target, remembering that I had pinned and forgotten about them.  After seeing the twinkle in my kids' eyes as they pegs lit up when we connected them, I knew I hit the jackpot. "OOOHS" and "AAAHS" followed by "Oh my, Mommy, LOOK!" accompanied by lots of giggles and smiles is more than confirmation to me.
In-stores have a limited selection, so I decided to check out the Laser Pegs website. I now may be considered a tiny bit obsessed. I am now the proud owner of their free iPad app (so much fun and yes I play it), and our family has established quite the wish list for future toys. My youngest loves the bug building sets, my second the mythology section, my oldest loves the robot building kits and fairy, and they all want the play table.
They have planned epic battles in the dark. For us, this is huge. Last summer, the girls refused to play with their step brother due to his aggression and opposition. Seeing them TOGETHER, having fun and loving it, melts my heart as a mom. There will be videos down the road when we have enough contributors for said battle.
Remember when I mentioned creativity and being entertained? It works, all three are collaborating, asking dad for advice, I have even found a battle map (kudos to my second one) about toys that we don't even have yet. They practice with the few we have and sometimes they just randomly click them together to see what they can come up with.
Word of advice, if you are very strict about bedtime, send them to bed earlier. They will play in the dark, even under the covers.
On a last and winning note, I feel it is my duty to share with other parents who share my passion for effective, educational and fun toys and a creativity learning environment for our children. Laser Pegs is currently holding a contest for elementary schools and developmental programs for a chance to win Laser Pegs Kits. If you know a program in need, head on over to Laser Pegs facebook page and nominate them for a chance to win. It's free and you could win for your school or program.
Deanna Ayres is a mother of 3 amazing kids, 2 of which have special needs, full time student,content writer and passionate blogger. I love coffee (obviously with my schedule), my family, photography, fictional writing and am always on the lookout for new ideas to foster the
growth of my children. They are our future!