Last December Nove had 6 teeth filled at the dentist's office and she has had some lingering pain since then. This post is a demonstration of How Not To Fix Tooth Pain When You Have Autism.
This lingering pain has come and gone. We weren't sure it was real, until it was probably too late.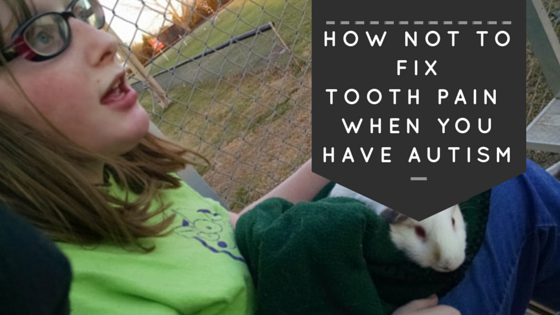 She didn't feel pain before!
What you should understand is that she has spent her life not feeling much. Her pain tolerance was crazy high. She had an abscessed tooth at age 3, a broken arm in Kindergarten and a broken foot in 4th grade. None of which made her cry. In fact, the first two didn't even phase her and we had to see a physical symptom before we knew for sure that something was wrong!
None of those issues made her cry. In fact, the first two didn't even phase her and we had to see a physical symptom before we knew for sure that something was wrong!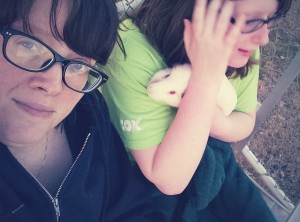 So, this last 6 weeks was heart breaking for me. The pain in her mouth was so bad that she would react with her whole body when it came on. Her arms and legs would be stretched out to their limits and she actually cried in pain.
There was yelling and hitting and anger at the pain and frustration too, but that's pretty normal for her. Crying is not.
It took 2 dentists, 2 trips to the ER and our family doctor before we could get it taken care of. It was incredibly frustrating for all of us. I've never felt more worthless as a mother because I couldn't help her.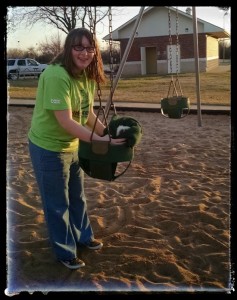 Here's a list of doctors and road blocks
December 2014. teeth filled at dentists – put under anesthesia for procedures. 
1 week later, pain lingering. Visit dentist who says to give it another week. It might be overstimulation due to her sensory issues.
1 week later (2 weeks after fillings). Still uncomfortable. Visit family doctor to make sure it's not something other than tooth.
1 more week later. Dentist gives anti-biotic. This seems to fix it.
March 2015. She complains that her cheek hurts. This happens several times over a week. Sometimes she says it's her tooth, other times, it is her cheek. 
We see dentist. They do x-rays. He thinks it may need a root canal, but he doesn't do them. Refers us to someone who does.
A week later (after lots of pain) we see new dentist who does root canals, but won't put her "under" to do it. There is NO WAY she can go through a root canal while she's awake. She can barely get through a cleaning without melting down because of her sensory issues. They get new x-rays. This dentist doesn't think she needs a root canal. Sends us on our way. 
A few days later the pain is back and worse than ever. Late at night, we go to the ER because she can't get to sleep and has been in pain for 4 or 5 hours.
The next morning I call everyone I can find to see if they do root canals AND anesthesia to put her under. I'm met with a big fat load of no. Either they do one, but not the other, or they can't take her insurance, or it will be weeks before they could see her. 
I called and left a message with her first dentist – who she's seen for many years now. No call back.
Several days go by, still no callback. My mom calls the emergency number for the dentist and still gets no callback. This is a weekend, If I remember right. She then goes back to the ER because there is so much pain. Both times at ER they give meds and cross their fingers, but those meds don't help the pain or anxiety. The last batch of meds they gave her, cause a rash or hives. (see photo)
Monday rolls around and I call again during open hours to the dentist. I explain what's going on and they talk to the dentist who says we can pull her tooth or he can do more research on who can do a root canal while she's "out". I kept my temper and said lets pull it because I'm not going to go through waiting more while she's in PAIN.
They schedule her for a week out. He only does surgical procedures one day a week. By the time I got there to sign consent forms, they were able to move her to 2 days later, and by the end of the day, she was moved to the first appointment of the day 2 days later. The very next thing I did was to call the family doctor and ask if there was anything they could do for her pain and anxiety. They said bring her in this afternoon.
Finally, we took her into the doctor when she was in the middle of a pain episode. She had worked herself up so much over the fear of the pain and the real pain that her anxiety levels were off the charts.
The doc gave her a shot which brought her down within about 10 minutes. Unfortunately, that shot later made her sick to her stomach. I don't think it bothered her though. She'd much rather throw up, than have the pain.
She was in much less pain for the next 30 hours and we all managed to get some sleep before she had the tooth pulled.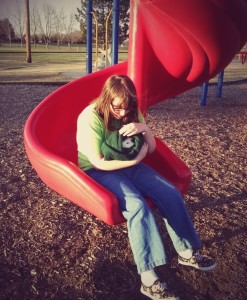 No More Pain
One thing that doesn't come through in that timeline above is that it spanned about a 3 week period before we got her tooth pulled and another week when she was healing up from it.
During those weeks, we were up at all hours of the night with her in pain. I've not watched that much TV in a long time! We would just sit on the couch cuddled up watching TV quietly so others could sleep.
She would be holding her cheek, and sometimes the pain would spike so she'd get up and walk around looking for something to lash out at.
It's now been about a week and a half and it appears to be fine. No more pain.
There was a lot of missed school, and a couple of days where she was willing to get out and distract herself. The photos in this post are from our trip to the park on a nice day. One of our dogs, Kiko, and her special guinea pig, Pebbles are with us.