What is Pervasive Developmental Disorder Not Otherwise Specified, or PDD-NOS?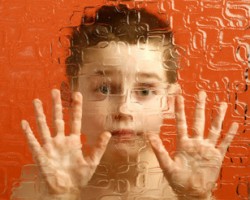 It's a form of Autism. Until this year when the DSM changes to remove PDD-NOS along with Asperger's Syndrome, PDD-NOS has been a diagnosis for many kids with higher function that still display common traits of kids with Autism.
The thing is, Autism is a spectrum disorder. Kind of like how a rainbow has a spectrum of colors, Autism has a spectrum of symptoms and commonly displayed behaviors. Rainbows always show each color even if you can't clearly see them because the rain clouds. Unlike a rainbow, every kid with Autism doesn't display every symptom or behavior.
My daughter was given this diagnosis because she did many things that autistic kids do, like spinning, arranging her toys in a certain order repeatedly, and not using verbal communication until she was older. On the other hand, she did things that some kids with autism can't do like making eye contact, being friendly with people and actually noticing her environment.
My daughter displayed odd behaviors as a baby, but it wasn't until she was school age that she was diagnosed.
Social Skills
A developmental delays in social interaction can often be seen when the child is a baby. They may not look you in the eyes, or smile when you are interacting with them. They do not hold their arms up for you to pick them up. They might play off by their self. Some of the children with PDD-NOS may enjoy being cuddled on occasion. They might enjoy rough housing with their older sibling or parent.
My daughter couldn't comfort herself as a baby, and couldn't let us comfort her either. As she's gotten older, we know that she doesn't feel pain the same way we do. A broken arm, broken foot, absesed tooth and other things showed us just how little she feels physically.
Emotionally, she feels a lot. She's 11 now and is just getting to where she can express her emotions without becoming too frustrated and angry. It took us a long time to "get" that she was not able to tell us what she felt or thought. Children with PDD-NOS often have a hard time with emotions. They usually experience emotions, but to the extreme. If they are mad they have temper tantrums that last much loner than a normal child. This is the same for fears, or sadness. They may have extremely happy times. They usually will not show facial expressions that go along with the emotion.
Many of the PDD-NOS children usually do not have problems with separation from their parents. They also do not have issues with strangers. They may run right up to a stranger like they would their parents. When the child is older they will usually become close to their parents or other adults. They have a hard time making friends. They do not like participating in games with other kids. Some children with mild PDD-NOS will want to make friends, but since they have a hard time dealing with other people socially this will be hard for them.
All of those things are true for my daughter, but they might not be for every kiddo diagnosed with PDD-NOS or Autism. It's a spectrum, remember?
Communication Skills
The impairments of communication in children with Persuasive Developmental Disorder Not Other Specified can start while in infancy. The child will not babble or try to talk like other children do. They may pick up a word and repeat it over and over again – called echolalia.
My daughter had her own language. It sounded like she was from another country and had full command of the language, but it made no sense to us and wasn't anything we could actually identify. This is fairly common from what we've learned over the years. It probably has something to do with the way she processes what she sees and hears. Still, at age 11, she doesn't always use the right speaking voice or phrasing for the right occasion.
Some PDD-NOS children pick up speech easy, but they have problems using the right words in the right situation. They have trouble understanding the tone in someone's voice when they are joking or using sarcasm. If someone tells them something they take it literally. We've had to work on the communication skills between my mom and my daughter. My mom tries to be funny with Nove, but Nove doesn't understand the humor (or sarcasm) and gets her feelings hurt or thinks Gramma is a liar.
Another thing that is pretty common for anyone on the Autism Spectrum is being hyper-focused on what interests them. For Nove, it has been Hotwheels cars, Barbie, and the TV show of the moment. However, if you want to talk to her about anything else, forget it. She's not interested and won't stick around to listen.
Persuasive Developmental Disorder Not Otherwise Specified children may only talk about subjects they are interested in. It may seem that they are talking at you instead of with you.
These are just a few things that might be lumped into the Autism Diagnosis that I'll be taking a closer look at this month. The diagnostic manual for doctors is changing this year (in May, I think) and will remove certain labels like PDD-NOS, so I want to document what's been going on so far, in order to chronicle how it will change.