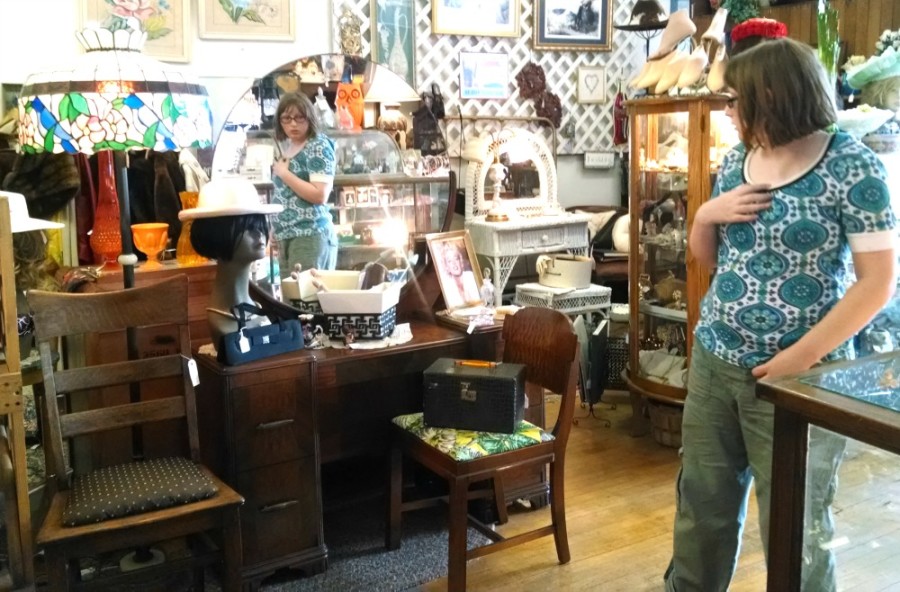 This post was intended just to document a rare occasion where my girls and I got out and had a great day with no melt-downs, but it turned into a realization that there are great people in the world.
Yesterday started out really well. I never know with either one of my girls how mornings might be, but both of them were up without grump. We all got dressed and left the house by 8am – for a non-school day, this is rare! My mom even went to breakfast with us. Our local Golden Corral had $8 all you can eat breakfast and it was a pretty good spread with lots to choose from.
Both my girls got their money's worth too.
After that, we took Gramma home since a headache was building and then we went to the mall. Inside the mall, I think we hit every store. Okay, that's an exaggeration, but we did walk from one end, to the other and back, with lots of looking around inside a few stores. Kat was on the hunt for something specific and we had time to waste.
What was surprising is that Nove was pretty relaxed about it all. We did have to go to Build A Bear Workshop and the candy store (for sugar free candy) but she's was willing and able to walk around looking at the boring clothing in the stores her sister wanted to visit.
About half way through our trip, we stopped at a sitting area on the upper level of the mall. They had massage chairs. Nove thought she wanted to try it, but as soon as it started, she was out of there! Later, when I sat down, I know why she did not stay. It was uncomfortable at first.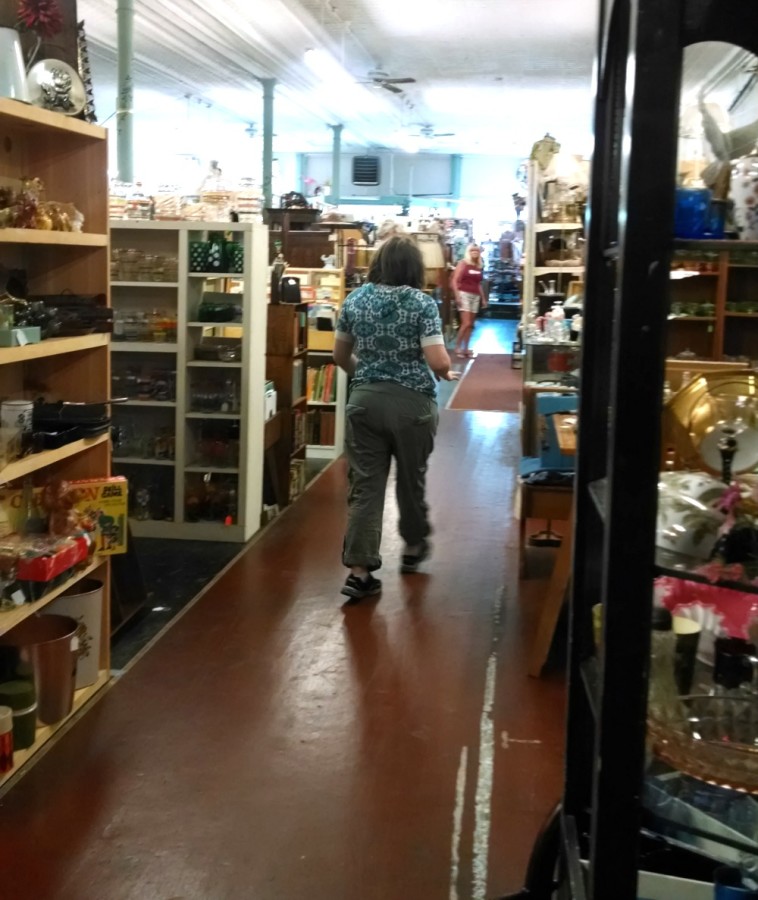 But, here's the good part. She darted into the small Bare Minerals boutique right by the sitting area. She was looking around, not staying in one spot long. It took me a minute to get into the store because I was getting Kat situated in the massage chair that her sister abandoned.
One of the sales ladies in the boutique tried to engage Nove, but Nove was overwhelmed or shy (it's hard to tell) and was ignoring the sales lady. The lady was very kind – asked Nove her name which actually got an answer and in return, gave Nove her own name. But, Nove disengaged again really quickly. When the lady asked Nove if she wanted to try a makeup color on her hand and tried handing Nove the applicator, Nove walked away without acknowledgement.
That's when I spoke up and said "she has autism". The lady said
"I know".
This took me by surprise. I know I did a double take and may have stood there with my mouth open like a shell shocked mom. But, the lady, graceful as all get out, told me she had been a special education Para educator for 13 years. Funny how I don't remember her name, but I remember the amount of time she said, huh?
Anyway, the lady was just plain awesome. Nove never would engage with anyone but me and Kat, however, she later felt good enough about the situation that she used an applicator and wanted to put eyeshadow on me and then to try some lip gloss. She was even patient enough to use the throw-away applicators and then put them in the trash cans herself.
By the time Kat came in and asked to try some of their new makeup foundation, Nove was done with the store. We went back to the seating area a couple of times and went back to watch Kat get makeup applied. Then, Nove told Kat that she was done getting makeup on and that she better come along!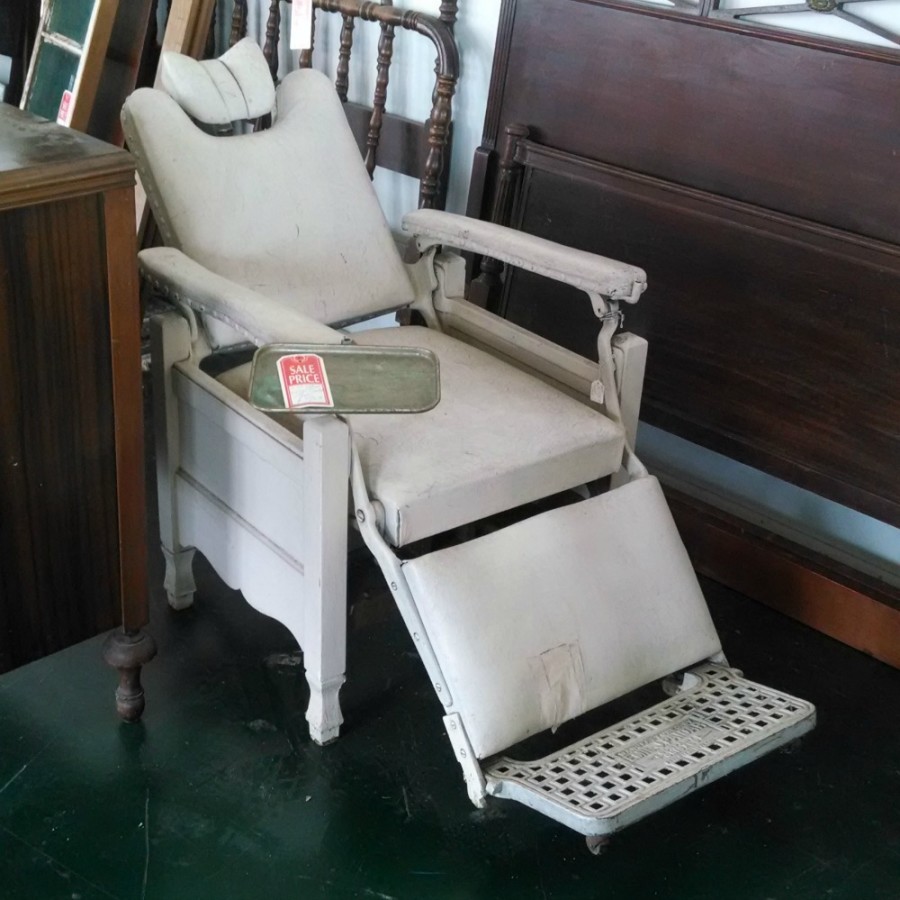 Our plan had been to see a movie in the afternoon and while we had made a descision about what and where, I remembered that I didn't have cash for that particular theater (that only takes cash!) so we had a change of plans, which Nove rolled with.
We went down town to the Warren Theater Oldtown, and I'm glad we did. None of us had been to that theater, but it was a really cool experience. It is geared toward an adult crowd with a full bar and dinner served right at your seat.
We went to our seats and picked out something easy to get to the bathrooms from. Then, Nove pushed her button and the waiter came to take our order for popcorn and a drink.
The seats are extra wide and there was just a lot of room, which was awesome. We all curled up in various positions throughout the movie which was really funny, by the way.  We saw Teanage Mutant Ninja Turtles. We laughed all the way through and were never bored. That equals a good movie in my book.
On the way out of the theater, two waiters were next to the exit door and had a basked of mints. I thought that was a very cool touch.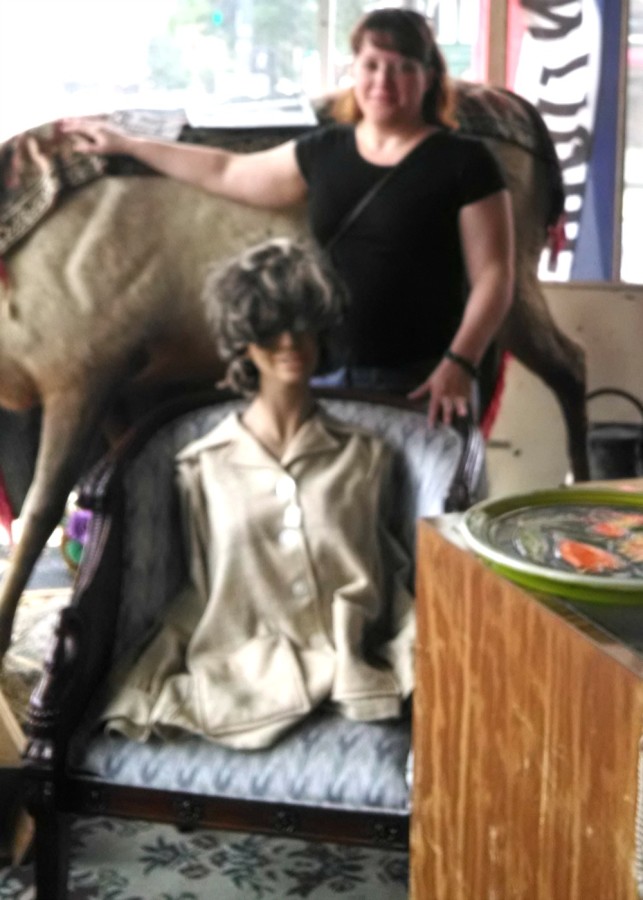 Kat didn't want to go home, but I was starting to hurt from all the walking we'd done. She asked if we could go by the antique store. It's a huge old building with 3 floors of antiques. I asked Nove if she felt up to it and she said yes. I was a little bit surprised since it had already been a very long day.
So, we went. I got photos. It was hot, musty, dusty and dark in that building. It always is though. Nove did well, even going upstairs and back down. Notice how scary those stairs are! It was the first time I thought to pull my phone camera out all day and so, all the photos of this post are from there.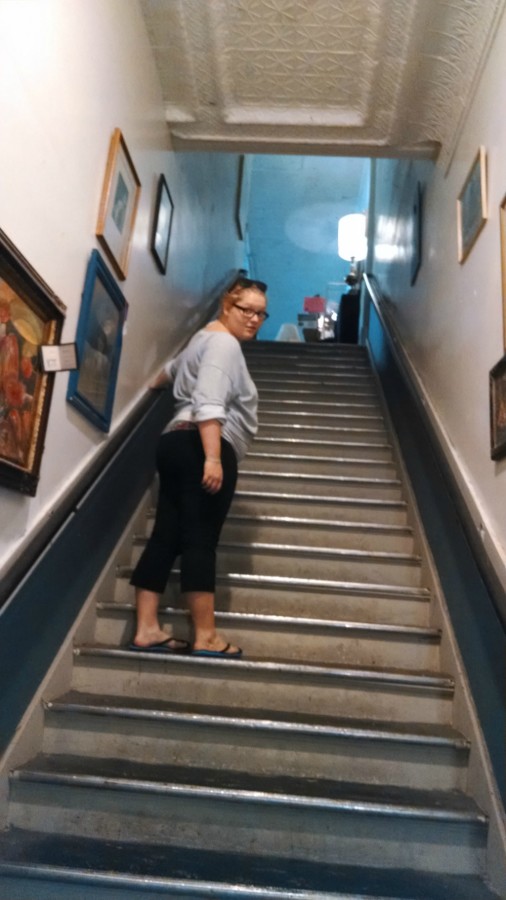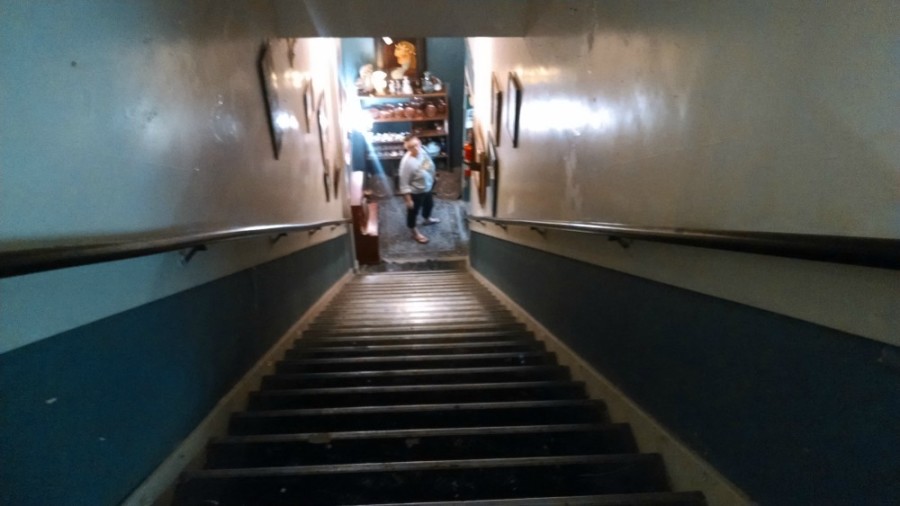 When we were done there, we agreed it was time to go home. However, after getting back to town, I wanted ice cream. They were packed! Nove didn't want to wait so we went next door to Goodwill who had remodeled. Nove was quite disoriented because their toy section, which is usually good for a barbie doll or ten was gone! We looked everywhere, but it simply wasn't in the store anymore.
Then, she was ready to leave. We went through the drive through for ice cream and then home.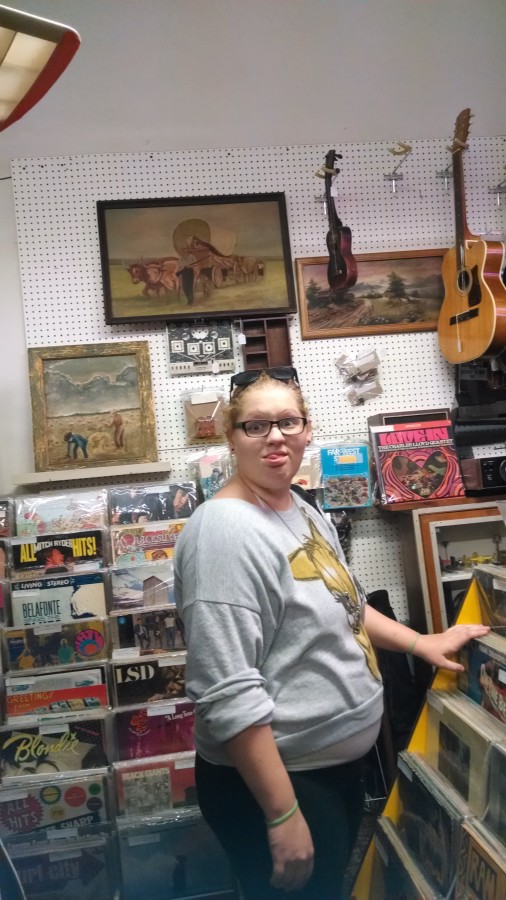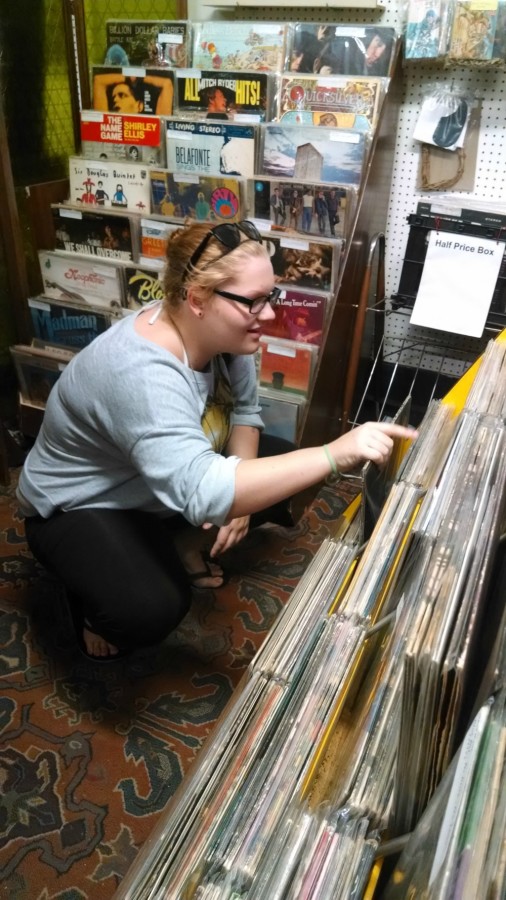 I wish that was the end of the day, but no. I still needed to get groceries! Nove said she would go with me if she could ride in the wheelchair cart. I carefully thought about it and asked her what she would do if they did not have one and she gave me a great answer, so off we went.
They did not have the wheelchair cart we were thinking about, but they did have a new type of cart which worked out great! check out the photos of that below. Nove and I took turns pushing each other in it. Please ignore the American Girl Doll taking a nap on the foot rest.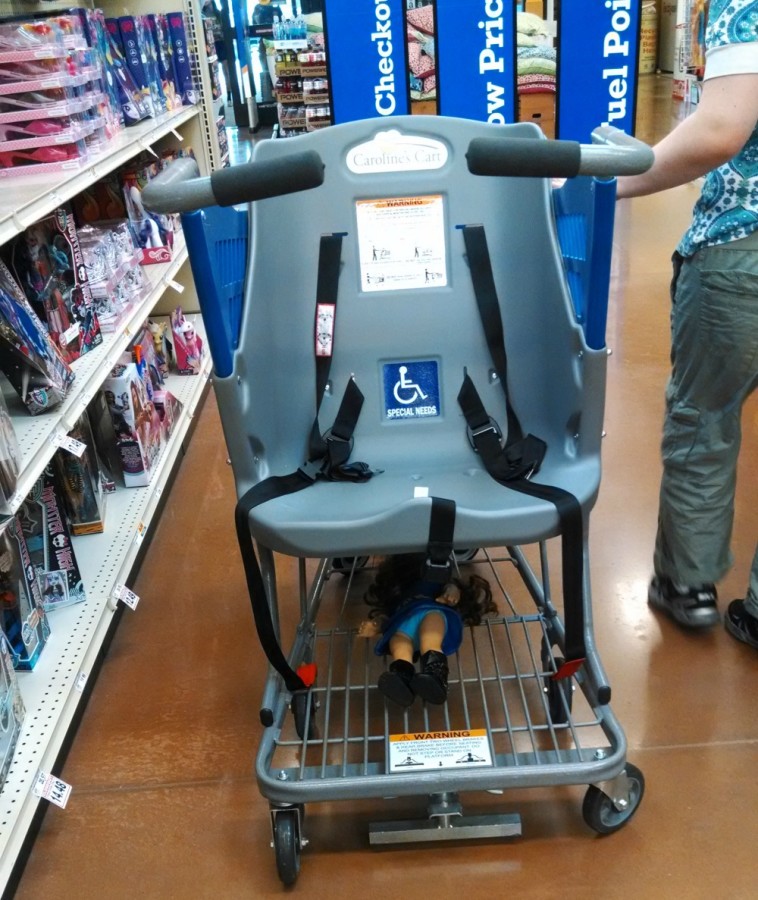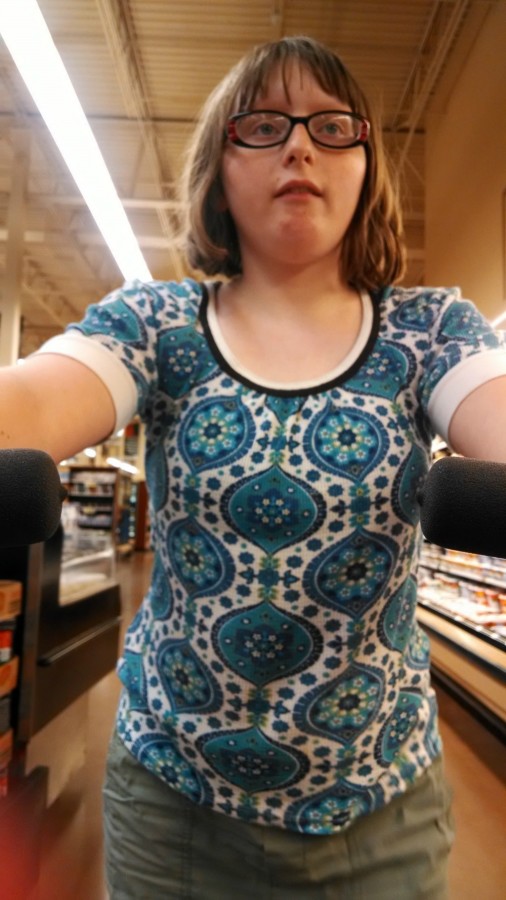 All in all – it was a great day. No melt downs, relatively few disputes between the girls and I can't believe how much I walked!