It occurred to me last night how much I miss cinnamon rolls. How, very, very much I miss them since we have gone to a low-carb diet to reverse and control my daughter's type 2 diabetes.
If you know anything about diabetes, you'll know that carbs (carbohydrates) convert to sugar in the body. So, they are not good for us to have. There are some natural carbs in veggies and fruits, but things like bread? – that's nothing but crappy carbs. Cinnamon rolls without bread just equals frosting and cinnamon, right?
Here's how I figured out to make a low-carb version of cinnamon rolls.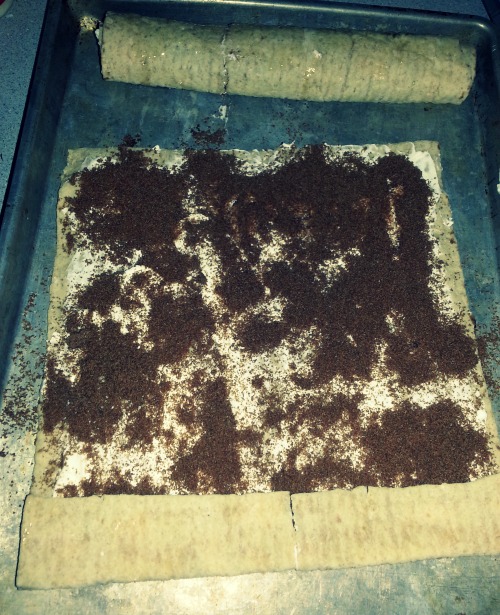 Set your oven to 350 degrees.
Then, use a layer of Joseph's Lavosh Bread. We buy ours at Walmart when they are in stock, or online when we can't find them locally. ( at Amazon
1/2 cup packed fake brown sugar ( I used Splenda brand, but will use my coconut sugar next time)
1.5 TBS cinnamon
1/2 cup almond meal (I buy from Netrition or Honeyville, but Amazon has it too.)
I blended mine in a Ninja blender like this one at Amazon.
While I was measuring and blending, the cream cheese brick (8 oz. ) was in the microwave getting nuked into soft airy bubbles – about 1 minute. Did you know cream cheese POPs in the microwave?
Once the cream cheese is soft, and the dry stuff is blended;
spread about 1/4 of the cream cheese on the top of the lavosh layer.
Sprinkle about 1 1/2 TBS of the sugar mixture on top of the cream cheese.
starting at one end, roll the whole end up, into a roll. The cream cheese will stick to the outside of the lavosh and seal the end.
I did this with 4 lavosh layers and had some of the dry sugar mixture left over. But, I used all the cream cheese (well, other than the 2 or three spoonfuls I ate while I worked. shhhhh)
Once they are all done, rub some soft butter over the outsides of  your rolls. The top, bottom and sides. I melted my butter, then realized it would have been less mess to just use a stick of butter and rub the end over the roll. Live and learn, right?
Bake these for 10 minutes or so.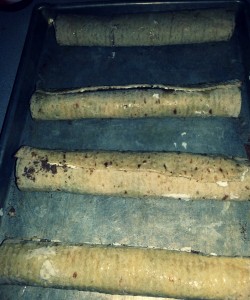 Low-Carb Cinnamon Roll Results
Well, I think there's too much sugar! My girls couldn't stop eating them though and I didn't even get photos of these when they were cut up. But, the couple I had were maybe, maybe, just a little too sweet.
The cream cheese on the inside tasted like having cream cheese frosting on a regular cinnamon roll, so that worked out. But, I originally tried to add the cream cheese and almond flour just to help bulk the roll up.
I have to make them again. My girls said so!
Here's the original recipe that I used from Pinterest as my idea starter: Sorry, I didn't grab the link for credit! 
1 c. packed brown sugar
2 1/2 tablespoons ground cinnamon
1/3 c. butter softened
Frosting
Cream cheese frosting:
1/3 c. butter softened
1/2 package cream cheese, softened
2-3 c. powdered sugar
1 tsp. vanilla
5-8 tablespoons of milk, as needed