A few weeks ago I found the recipe on Pinterest and thought it looked and sounded like it would taste great. But, we have gone to a low-carb diet so the bread that is used on the original recipe won't work for us.
I quickly got to work seeing what I could substitute on this low carb Greek Style Sandwich.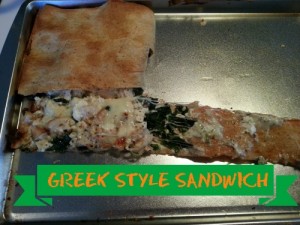 You can see the original recipe at Chef in Training.  Her photos are way better than mine. In my photo, I pulled back part of the Lavosh bread to see what it looked like inside.
Here's my version.
1 slice of Joseph's Lavosh Bread, or more if you want more.
2 oz. cream cheese softened
3/4 cup frozen spinach thawed and well drained
1/4 bag of frozen fajita chicken strips. (any chicken would probably work. I used what I had on hand.)
1/2 cup crumbled feta cheese (I had the remainder of a container of of a spicy feta blend)
3/4 cup shredded mozzarella cheese
I pre-heated the oven to 350 and melted the cream cheese in the microwave for about 10 seconds until it was soft enough to spread.
I cooked the spinach in the microwave too – enough to thaw it out.
Then, I threw the chicken into a hot cast iron skillet with some olive oil.
Once everything was either thawed out, cooked or melted here's what I did.
Spread the cream cheese over half the lavosh bread.
Spread the spinach over the cream cheese.
Scatter the chicken pieces over the spinach.
Spread the mozzarella over all that.
I then, folded the lavosh bread over the half with all the stuff on it.
It baked for about 20 minutes at 350 degrees and then I cut it into strips.
Yummy!
My recipe isn't super precise because I threw together what I had on hand. I suggest you do the same and then tweak as you need.
What do you think?