The way I see this, is that in many girl's experiences, the cheerleaders were admired, but often times the most popular and the meanest girls in school. So, the Monster High Fearleaders are a way for the underdogs to score.
If you'll read through to Discover who Goulia is, I think you might see how these dolls actually can mirror the life of our kids.
Why should the Monster High Fearleading 3-Pack from Mattel be in your kid's gift's this holiday season?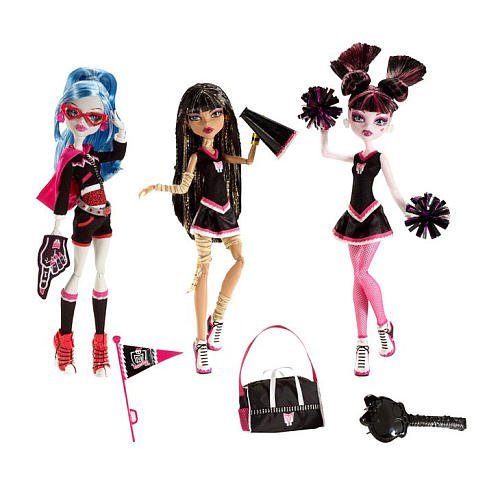 Who needs cheerleaders? Not my daughter! Fearleading is the newest way to encourage your school team. Haven't you heard? The Monster High Dolls have a popular pack of dolls out called the Monster High Fearleading 3-Pack. As if the most popular people (cheerleaders) weren't already scary enough!
And why wouldn't our kids love these characters, right? Werewolves and vampires are all over the TV and movies these days, but the Monster High dolls fit right in and take their rightful place in ruling a different kind of high school. All of the ghouls know how to rock their school spirit and lead the team's fans to victory.
Who's in the pack? You know, kind of like a wolf pack……
Draculaurara, the daughter of Dracula.
Ula D. as her friends call her, because even monsters need a nick name, is waiting for her sweet 1600th birthday. She likes to dress in black with hot pink to keep from being too boring and her best accessory is a sun protecting umbrella. But on game days, she loves her pom-poms and sporty fearleading outfit.
Cleo De Nile is also part of the pack. 
It's her affinity for being in charge that makes her the best squad captain. Her daddy is the famous Mummy and helps her celebrate her nearly 3000 years of age.
Cleo doesn't like the dark, and she's not a fan of history class. She's been there, done that,  you know?
Goulia Yelps, the daughter of zombies,  rounds out this trio.
Goulia is down right smart and proves her nerdiness with her horn-rimmed glasses. Just because she's still only 16 doesn't mean she's that young. We don't know how long she's been a zombie, you know.
Goulia most reminds me of our special needs kids in that she doesn't speak quite same language as everyone else at her school. Zombies have a unique language all their own!
She's also a book worm and has trouble with changes to her schedule (sound familiar, parents?). Goulia's favorite color is red (like read) and she has a pet owl named Sir Hoots a Lot!
The Monster High Fearleading 3-Pack from Mattel is originally a Toys R Us exclusive. It contains all of the fun characters mentioned above, wiith the accessories in the pack.
the pom poms,
megaphone,
foam finger
handbag
hair brush
doll stands