Friday evening our very large, very dead, tree fell on top of our house. This very large, very dead, tree has been dead for years. The park we live in is responsible for taking care of the tree. In fact, they removed another dead tree 3 or 4 years ago, but claimed they couldn't get to the other one.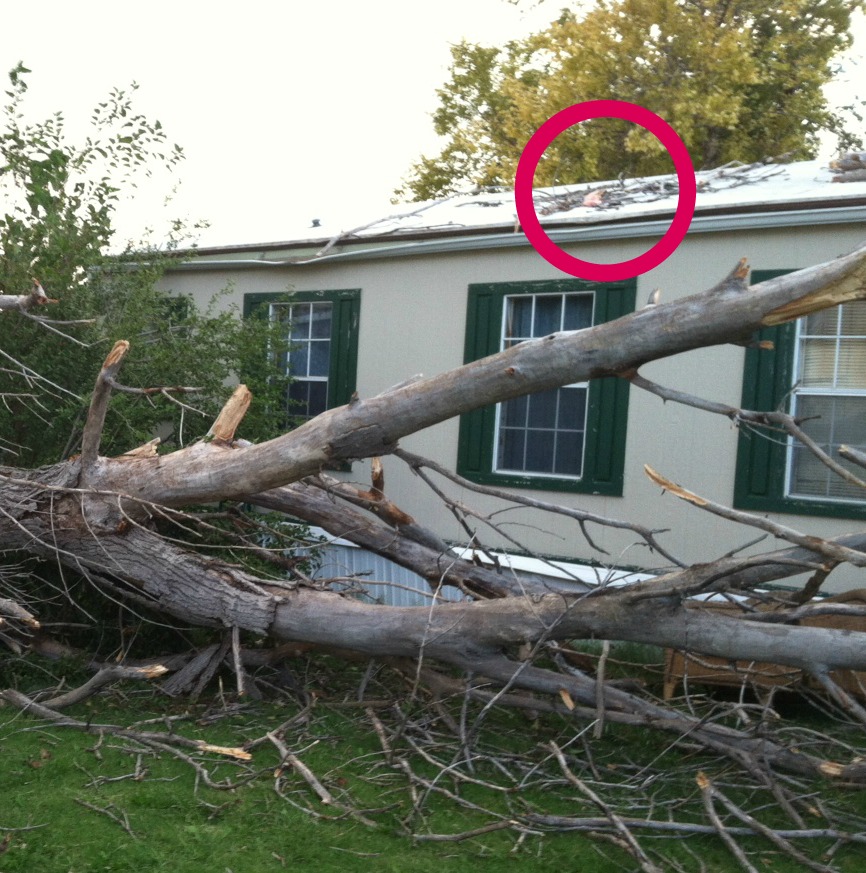 We got lucky!
`My mother was the only one home at the time, so my girls weren't harmed or even frightened. But, my mother has anxiety issues and apparently several neighbors heard her scream. I don't know if that's funny or not, I'm still trying to decide.
The sensory elements to this are tremendous.
First there was the sound of the tree falling – I can imagine a loud creaking and cracking.
Then, there would have bee a loud BOOM as it hit the top of my house. It hit hard enough to cause my ceiling to crack!
There was also the sound of things being knocked off the walls and ceramic mugs falling off their hooks.
The dogs were outside, so I bet they were screeching like the little chihuahua that they are. The tree fell right on top of their fenced in area.
I'm sure the sound was crazy loud. I'm sure the hundreds of small limbs and debris  rained a while.
For years, I've worried about the whole thing falling on top of my house and actually crushing part of it. The vision in my head was of my daughters being in the bathroom or of us sleeping in the bedroom as the tree fell through the roof crushing or skewering us while we slept.
Yes, nightmare inducing, right?
We got very lucky and so did our neighbors. The people who live right behind us could easily have been in as much trouble as we were if the tree had fallen the other way. You can see more photos and read the whole story at AlexShares.com 
But, back to the sensory issues this can cause. We lived through a tornado when my daughter was 3. She had such big fears of storms for years. She still has weather-man-anxiety-syndrome. That's when the weather man interrupts a tv show to show red on the radar. My daughter, who doesn't hear me call her for dinner, can somehow hear the weatherman announcing storms approaching 12 years later.
I can imagine what my mother will go through in the coming years. She is already on sensory overload with sensory integration problems. She hears things like no-one I've ever met. She smells things that give her headaches that I barely notice.  She might well be afraid of high ceilings during wind storms now too!
She was walking through the dining room area which is exactly where the tree fell.
With my girls both being afraid of the sound of storms, now I might have to contend with my mother's fears too.
Any suggestions for coping with this?
Please share in the comments below.