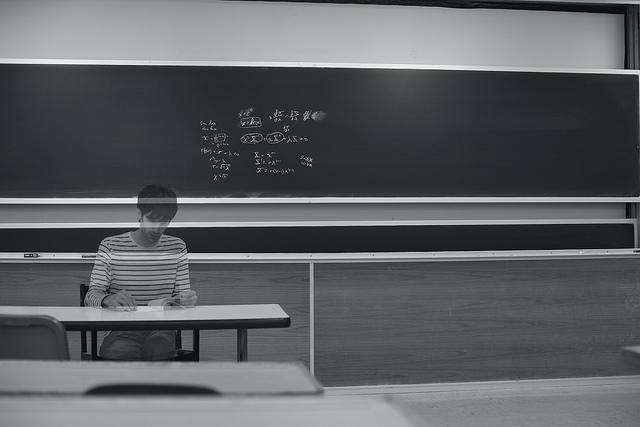 Our kids have been going to public school for years. Some kids, though, don't learn well in that environment. Mine are great examples of kids who don't thrive in the public school setting.
For parents whose child struggles in traditional schools, they may choose to homeschool their children or search for other alternative schools for them.
Not all of these options will be good for your child's specific needs, but take a look at the different types of school systems to get a better idea of what's out there.
Montessori School
One alternative approach to education many families choose is Montessori. This method is based upon the scientific studies of Dr. Maria Montessori of Italy, who saw that children will learn naturally without assistance from adults by interacting with their surroundings. Schools are set up with various objects which enable the children to use their senses to learn. There may be a kitchen area with play pots, pans, and food, or baby dolls and associated necessities to care for a child. Children in Montessori schools are often of different ages so the younger children can learn from older students.
Waldorf schools
Waldorf schools are another alternative approach to education that parents may want to consider. Waldorf or Rudolf Steiner education considers the entire child's body, soul, and spirit and uses educational methods which address each area. It is also based upon the assumption that children go through specific stages in development, and it gears learning to those stages. Waldorf education strives to enable children to develop skills and abilities they're born with while being non-discriminatory.
Charter Schools
Charter schools are often begun by a group of parents with the approval of their state board of education. Unlike traditional school systems, charter schools are run by a board which is elected by the parents of the school's students rather than by the population as a whole. This type of school chooses their own curriculum, makes their own rules in relation to dress code and discipline, as well as homework requirements. They promise to get back to the basics of learning and often teaches from a core curriculum approach which builds upon a what a child has previously learned rather than injecting new ideas a child hasn't learned. In our area, there are charter schools for performing arts, science and math.
Magnet School
Magnet schools are similar to charter schools but are designed to offer a unique learning environment for their students. They teach all basic subjects but will often have a concentration in one subject such as science, math, or technology. To encourage students to excel in this area, magnet schools will choose a curriculum which also emphasizes that subject. Other magnet schools may concentrate on performing arts or offer hands-on activities to help a child learn.
Homeschooling
Parents are the teacher and school is done at home. There is a variety of homeschool curricula available through publishers which specialize in providing it for home-educated students. Anyone considering homeschooling as an option will want to learn their state's laws regarding homeschooling and follow those laws carefully before pulling their children out of public school systems.
Online School
A virtual school or cyber-school describes an institution that teaches courses entirely or primarily through online methods. This is the route we chose for my 16 year old during her sophmore year of high school. She was at point where she did not get the individual help from teachers in her core classes that she needed in order to fully understand the work. The enviornment was too loud, too busy, and not easy to concentrate in. So, now, she is excelling in her classes while doing a combination of online classes, with local teacher help when needed, along with participating in the high school choir which she intends to continue through college.
It has made the difference in her staying in school or dropping out!
Parents have many reasons for wanting to take their child out of traditional public school systems. They're looking for alternative schools which will better match their child's personality, abilities, or interests so their child can excel in life. The above alternative schools are options you may want to look further into before making a decision which alternative school is right for you and your child.