We don't do much for Thanksgiving the last few years. My girls are usually out with their dad at his family's home. But, I remember the years growing up at both sets of grandparent's houses with turkey hangovers and eating for hours because the mashed potatoes and gravy were just so darn yummy.
I also remember all the food that got sent home with everyone. Rolls, turkey, ham, cranberry sauce and jelly…….. That's either a food nightmare or a dream. I'm not so sure anymore.
Well, for everyone who has leftovers, or didn't plan well ahead of time, I wanted to share seven great ways to use your Thanksgiving Leftovers without getting bored.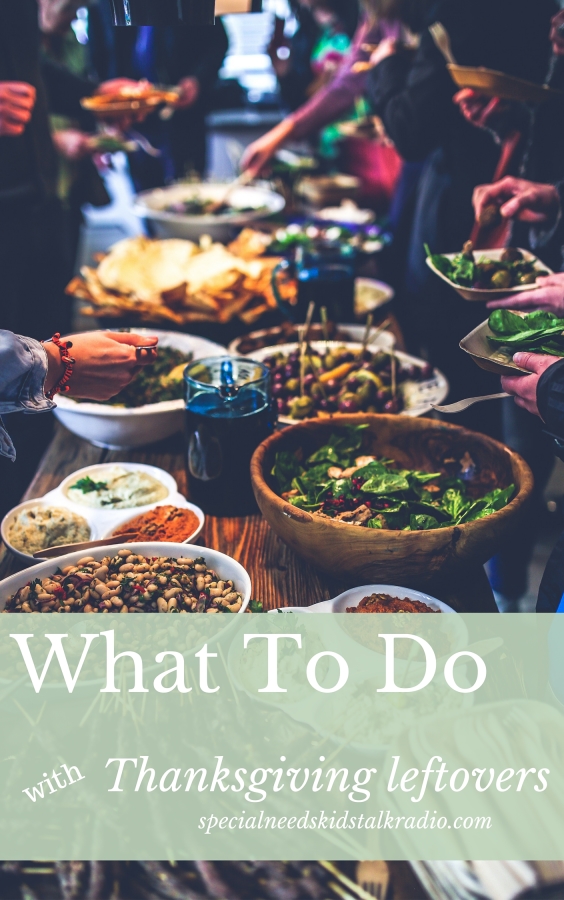 Basic and Easy Turkey Stuffing
Makes about 4 servings
Ingredients:
1 cup plain breadcrumbs
4 cloves garlic, finely minced
1 large onion, coarsely chopped
1 small apple, peeled, cored and chopped
1 tsp dried tarragon
1 tsp thyme
Salt and pepper to taste
Instructions:
In a large bowl, combine all ingredients and stuff your Thanksgiving turkey or chicken.
——————–
Leftover Turkey Curry
Serves 4
Ingredients:
3 cups leftover cooked turkey, diced
1-2 tbsp curry paste (depending on your taste)
1 large onion, chopped
1 can crushed pineapple, undrained
2 tbsp flour
1 tsp fresh ginger root, grated
2 cups chicken or vegetable broth
1 tbsp oil
Instructions:
Heat the oil in a large non-stick skillet and add the onions and fresh ginger. Fry until the onions are softened. Then add the curry paste and cook for a minute. Then add the flour, broth and pineapple. Bring to a boil and simmer uncovered for about 5 minutes. Mix in the turkey and cook for about 10 minutes until the turkey is heated through.
Serve immediately with rice.
——————–
Leftover Turkey Hot Pot with Bacon
Serves 4
Ingredients:
1 garlic clove, finely minced
1 lb leftover turkey, diced
8oz bacon, diced
½ tsp thyme
2 cups milk
1 tbsp all-purpose flour
2 red onion, sliced
1 lb potatoes, peeled and very thinly sliced
Fresh parsley, chopped
Salt and pepper
Instructions:
Preheat the oven to 375°F.
Fry the onion and garlic in a non-stick frying pan in a bit of vegetable oil. Then add the turkey and bacon and stir-fry for a few minutes. Sprinkle with flour and keep on cooking for a further minute while stirring. Slowly add the milk and thyme and mix well. Allow to gently simmer for about 15 minutes. Add the parsley and season well with salt and pepper.
Place the mixture into an ovenproof dish and top with the thinly sliced potatoes. Bake in the oven for about 30 minutes or until the potatoes are tender.
Enjoy with fresh vegetables on the side.
——————–
Holiday Pumpkin Loaf
Yields 3 (7x3inch) loaves
Ingredients:
1 (15 ounce) can pumpkin puree
3 ½ cups unbleached all-purpose flour
1 cup vegetable oil
2/3 cup water
4 eggs
1.5 cups sugar
2 tsp baking soda
1 1/2 tsp salt
1 tsp ground cinnamon
1 tsp ground nutmeg
1/2 teaspoon ground cloves
1/4 teaspoon ground ginger
Instructions
Preheat oven to 350 degrees F.
Combine flour, baking soda, salt, cinnamon, nutmeg, cloves and ginger in a mixing bowl. In a separate large mixing bowl, combine the rest of the ingredients until well blended. Add the dry ingredients to the pumpkin mixture and mix well.
In the meantime, lightly grease 3 loaf pans (7 x 3 inch). Pour the pumpkin bread mixture into the loaf pans and bake in the oven for about 50 minutes. If a toothpick inserted into the middle of the loaves comes out clean, the bread is ready.

This recipe can also be used for making pumpkin muffins.
——————–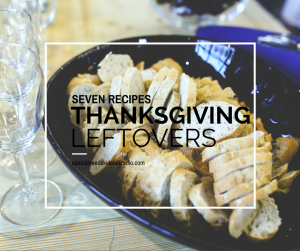 Luscious Left-Over Turkey Melt
Serves 1
Ingredients:
2 large slices (1/4 inch thick) cooked turkey
¼ cup left-over turkey stuffing
1 generous tbsp cranberry sauce
¼ cup turkey gravy (leftover from your Thanksgiving Dinner)
1 slice (1/8 inch thick) Cheddar cheese
Instructions:
Preheat the oven to 350°F.
Cut a piece of aluminium foil and place one slice of turkey into the middle. Top with the stuffing, then the cranberry sauce. Place the slice of cheese over the cranberries and top with the remaining turkey slice.
Wrap the foil slightly around the "sandwich" and bake on a baking sheet in the oven for about 15 minutes. Meanwhile, heat up the gravy in a little saucepan until hot.
Remove the sandwich from the foil and arrange on a dinner plate. Pour the gravy over the turkey melt and enjoy!
A great way of using up left-over turkey.
——————–
Meat-Free Alternative To Turkey – Mushroom and Cashew Nut Roast
Serves about 6–8
Ingredients:
1 tbsp oil
2 cloves garlic, minced
4 oz breadcrumbs
3 med carrots, cooked and mashed
½ cup vegetable broth
1 oz butter
1 small onion, chopped
8 oz cashew nuts, ground
1 egg, lightly beaten
½ tsp dried rosemary
½ tsp dried thyme
8 oz mushrooms, chopped
Salt and pepper
Instructions:
Preheat oven to 350° Fahrenheit. Grease 2lb loaf pan.
Heat the oil in a frying pan and sauté onion and garlic until tender.
In a medium-size bowl, mix together ground nuts, breadcrumbs and egg. Then add the mashed carrots and dried herbs. Mix in sautéed onion and garlic (and pan juices). Then add the vegetable broth and mix well. Season with salt and pepper.
Melt the butter in a frying pan and sauté mushrooms.
Press half of the carrot/nut mixture into the loaf pan and top with mushrooms. Add the rest of the carrot/nut mixture on top. Cover with foil and bake for about 1 hour. Remove from heat and allows to cool slightly before turning it out onto a serving dish.
This can be served hot or cold.
——————–
Thanksgiving Cranberry Sauce
Ingredients:
½ cup sugar
1 ½ cup mixture of water and orange juice
1 tsp grated orange zest
4 cups fresh cranberries
Instructions:
In a saucepan, combine sugar, zest and water/orange juice and boil for about 5 minutes.
Add the fresh cranberries and lower the heat. Simmer for about 5 to 6 minutes or until the berries are tender and the skins have popped.
Pour mixture into a bowl and put in the fridge until the sauce has thickened and jelled.
A great homemade accompaniment for your Thanksgiving dinner.
——————–
I hope this helps you overcome your Thanksgiving hangovers!
Leave a comment below about your leftover recipes. I'd love to read them.