My daughter has been diagnosed with Type 2 Diabetes! When the diagnosis first came, I had no idea how scary it is – how dangerous it is. Here is what I've found out, and what's still confusing about the difference between Autism behaviors and Diabetes symptoms.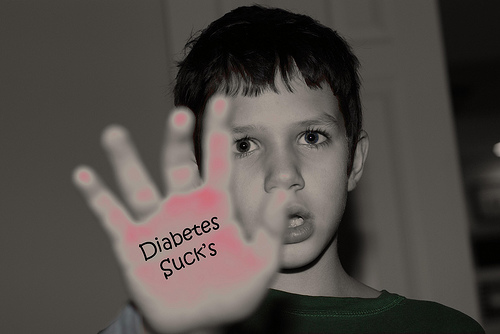 What is type 2 diabetes?
I'm a little angry with my daughter's primary care doctor. They determined that she has diabetes, but did not stress the importance of changes. They let us go 2 weeks between diagnoses and a visit to the specialist clinic with no extra information – not even a chat about what it is!
So, when we went to the diabetes clinic this week, we were overwhelmed and still did not walk away with the basic information.
Here is what I have found out through friends and family and doing my own research, though I did avoid jumping on the internet to find the information initially.
In a properly working body, the pancreas produces insulin that breaks down glucose taken in through the foods we eat. In a Diabetic body, the pancreas does not produce enough, or any, insulin to break down that glucose. When glucose doesn't get broken down, the cells can't use it.
So, the glucose stays in the bloodstream and can cause very dangerous medical issues! The pancreas is designed to utilize the food we eat and turn it into fuel. This fuel allows the body to accomplish the day to day living. By giving the pancreas too much fuel, it can eventually become overloaded and unable to keep up with the demand.
In most people, and this varies from one "normal" body to another, but the blood glucose range is 80 to 110 while fasting (or not eating for several hours. Then, after eating, it's a normal range to see 100 to 140.
The numbers on a blood sugar range.
My daughter's numbers? Scary! 3 weeks ago when this was first found, her numbers were at 129 fasting and 198 not fasting. This week, Monday, at the diabetic clinic, her numbers were at 289 and then about an hour later, 315. Anything over 250 is off the chart that the clinic gave us.
Nove has so much glucose in her blood sometimes that it just spills out in her urine. Her body can't process it and so it doesn't get used and just keeps on going out, but this has some major issues. From what I've figured out, there is a catch 22 with type 2 diabetes. The body craves food because it isn't using the glucose from the food it is taking in. So, it keeps craving that. But, it can't use the glucose when it gets it because of the lack of insulin!
It's easy to gain a lot of weight and all the extra weight makes it worse.
The symptoms of diabetes?
The only familiarity I had with diabetes before this week was my father in law and great grandpa who both had to have their legs amputated because of a lack of circulation to their feet. As if that's not scary enough, we found out that diabetes can cause stroke, coma, and personality changes.
Hello, did they just say personality changes? One of the most consistent things we've noticed about my daughter over the years is that she gets really upset over what seems to be nothing, then eats, and is fine within minutes. So, are the behaviors really just symptoms of her Autism, or have they been symptoms of her diabetes?
If it is diabetes, then why wasn't this found sooner? So frustrating………..
Other symptoms can be loss of eyesight, tingling in feet and fingers, dizziness and excessive thirst and urination.
When I first heard the dizziness symptom, a lightbulb went on over my head. Many autistic kids like to spin. Nove's a spinner, minutes spent in a chair that will spin, or standing in one spot just spinning, are minutes of delight for her. She never got dizzy either, until the last year or two. I wondered why she started getting dizzy, but now I wonder if it has more to do with her diabetes?
She also urinates a lot and has to wear a pull up to bed. That isn't exactly abnormal for a kid with autism, so I never thought twice about it. Now, I wonder.
What causes type 2 diabetes?
From what I'm reading, the causes of type 2 diabetes can be several things.
Eating the wrong foods, excessively.
Medications.
Lack of physical activity.
In Nove's case, it is probably the result of a medication given to help manage her anxiety and major physical behaviors. This drug causes the body to feel hungry, which leads to her eating a LOT, and while she used to eat pretty healthy stuff, her taste changed a while a back and she craved carb heavy foods. Here is that catch 22 I mentioned earlier. Craving sugary foods that her body can't break down, and then being overloaded with glucose that she can use.
How to fix it?
Yep, it really can be fixed, sort of. Okay, we'll call it managed.
First thing is that in our case, we could remove the medication. However, it's the only one that seems to work in managing her scariest behaviors. So, until we find out more, we'll leave it in place. I don't know at this point if the damage is permanent and she'll always be diabetic or not. The clinic doctors did tell us that it can get better.
When a person is diagnosed with diabetes, many doctors hand out a few pamphlets on the disease and a prescription for medication without telling the patients that there is an alternate route.
A handful of widely known diabetes organizations never mentions that diabetes reversal is possible. Why? Because diabetes is a big business and there's revenue to be gained for those organizations, but you owe it to yourself to be the most informed about any condition you're diagnosed with. If your doctor tells you that you have diabetes, you should know more about the disease than he or she does because it's your health on the line.
The thing that I did not understand before this week is that diabetes isn't just about high blood sugar. It is also about low blood sugar. They both happen with Type 2 Diabetes and I did not know that. At all. Both are very dangerous.
If I understand it right, too low of blood sugar (glucose) can cause a diabetic coma and too high of glucose can lead to a stroke.
So, the best thing to do is to track when and what affects your glucose levels.
How? There are several things which I'm listing below.
Using a glucose meter.
The very first step to take when you're told you have diabetes is to get a blood glucose meter. We were provided one at the diabetes clinic, but the pharmacy didn't have the testing strips that matched the meter model, so a prescription had to be called in for a new meter. However, if you don't have insurance that covers that cost, you can find them for a variety of costs from the local pharmacy or retail store. You can also get them for free from some manufacturers.
They do this because they want you to buy their testing strips and most strips are expensive. Most insurance companies will gladly pay for strips because they know the key to fighting long term complications of diabetes lies in reversing it. This is the case in the USA anyway.
Nove came home just now after a day of not eating well. She didn't get much for breakfast and only ate about 1/3 of her lunch. She had a little snack at 1:30. Her test levels have been very low 100's today and just now, it was 108 which seems very low. She's cranky, oppositional. That would indicate to me thatshe is, in fact, running low for her "normal".
So, she's getting some snacks. A few strawberries, some blue cheese and hummus.
We've been charting 3 -4 times per day for 3 days now. I have to go call these in to the clinic.
Foods
When you know what your normal levels are, then you can figure out if you need more or less sugars. Sometimes, you can recognize that you need a snack like Nove does right now. She's cranky and oppositional which indicates that she's got low blood sugar. And, the meter reading said the same.
I wish it was that easy though.
How much and what kinds of foods you eat is the second factor in reversing Type 2 diabetes. If someone was diagnosed with the color red causing too high glucose levels, the simple solution would be to avoid the color red. But, remember when I said that I thought all diabetes was, was having too much sugar in the body? I was wrong and so just avoiding sugar isn't the answer.
After all, you can't avoid food. What you can do however is make sure what you eat works with your body instead of against it and helps to maintain a steady, normal glucose.
I will save the explanation of carbohydrates for another post and probably after we meet the dietition.
Physical Activity
The third factor in determining that diabetes can be reversed is exercise. Lack of exercise is one of the causes that lead to weight gain that leads to inactivity that leads to diabetes. It's all connected.
In my daughter's case, she started at a special school this year. The school doesn't have a gym, so when it's cold out, they don't get physical education or even recess outside where they can run, jump and play on equipment.
They do go to the YMCA twice a week to swim and walk on the indoor track, but that's not enough.
The clinic doctors told us that she needs at least an hour a day of physical activity. It doesn't have to be all at once, though.
She can play a video for 5 – 15 minutes per hour and just dance around and be silly as long as she's moving. This works well for us because she loves Youtube!
The teacher at her school said he would move around the times that the class does something similar so that it happens more often throughout the day.
Medications
In our case, this is insulin injections. Yes, shots of insulin directly into the body with a needle. We were creeped out at first, but she says they don't hurt and I don't think she even feels them.
At first they thought she could manage with an oral medication, but her numbers were crazy high, so insulin is the way to get things in order first.
Are you overwhelmed with that amount of information? That isn't even sharing how and when to test her glucose levels, giver her injections or what kind of food to eat.
It's been a long week, and I am afraid, will be a long time before we get back to normal. A new normal.
There will definitely be more posts about this journey and what we see change in the behaviors that we thought were due to Autism that might not be only because of Autism.