Today marks the 95th anniversary of the 19th Amendment  to the U.S. Constitution and the victory of the Woman's Suffrage Movement. It took so much blood, sweat and tears for women to earn the right to vote in the U.S. and if you've watched much TV based on history, you'll know this happened in part because politicians saw a way to win elections if they allowed women the right.
Let that sink in.
Sometimes, it doesn't matter as much where the fight starts, but where it ends.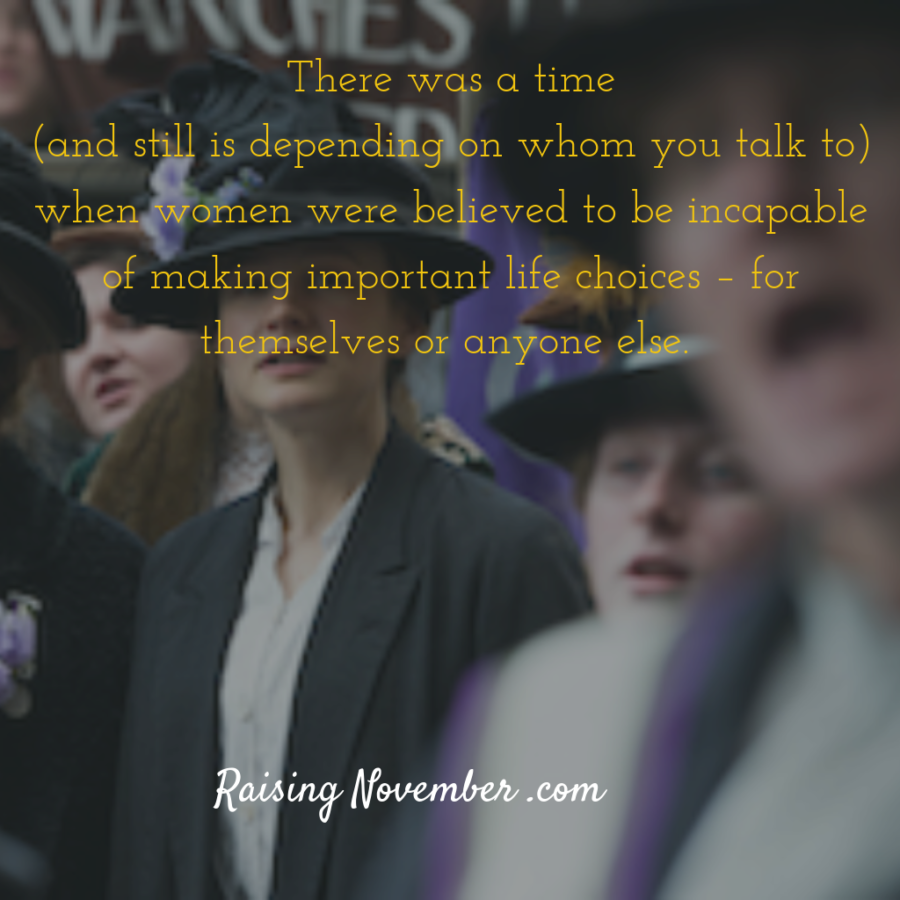 It angers me so much to know that women were treated like pets for so long. If you didn't obey your master (husband, father, older brothers, ect.) that you would be beat like a bad dog, or your food would be withheld. Women were seen for one purpose – to make children. But, there is so much more to women! 
Yes, I'm generalizing here, but even in a good caring relationship, women were thought of as "less than".
The world has come a long way in the last nearly 100 years when it comes to the life roles that women play. We are now company leaders, advocates and, of course, mothers. But one thing that I am incredibly thankful for in our current year, 2015, is that I as a woman and single mother, not only have the right to stand up for myself and my children, but I also have voting power to change laws that affect me and my family.
My children are disabled in some ways. We have a very long way to go in getting those with a disability their rights, and I'm glad that I have that power with me to help make those changes. There was a time (and still is depending on whom you talk to) when women were believed to be incapable of making important life choices – for themselves or anyone else.
I'm glad to say that is not the case now.
In honour of this historic and important day, I'd like to share with you the new movie that will be out in October 2015.  If you look around the internet, you'll likely find comments about this new film, Suffragette, that state how the women portrayed in the movie were rich, white, elite…. and that they were only fighting for a right for those same types of women to vote. While this might well be true, the cascading effects of that right to vote have trickled down over time to allow people like me – not rich, below the poverty line, to still affect change on legal and social matters.
August 26, 2015

, marks the 95th anniversary of the admission of the 19th Amendment to the U.S. Constitution and the victory the Woman Suffrage Movement had worked so hard for. After 72 years of countless suffrage protests, petitions, speeches, pamphlets, and nights spent in jail, on August 26, 1920, women had won the right to vote and the Suffrage movement had finally accomplished its goal.
Academy Award nominees Carey Mulligan and Helena Bonham Carter, and three-time Academy Award winner Meryl Streep, lead the cast of a powerful drama about the women who were willing to lose everything in their fight for equality in early-20th-century Britain.
The stirring story centers on Maud (played by Carey Mulligan), a working wife and mother whose life is forever changed when she is secretly recruited to join the U.K.'s growing Suffragette movement. Galvanized by the outlaw fugitive Emmeline Pankhurst (Meryl Streep), Maud becomes an activist for the cause alongside women from all walks of life.
When increasingly aggressive police action forces Maud and her dedicated fellow Suffragettes underground, they engage in a dangerous game of cat-and-mouse with the authorities, who are shocked as the women's civil disobedience escalates and sparks debate across the nation.
Inspired by true events, "Suffragette" is a moving drama exploring the passion and heartbreak of those who risked all they had for women's right to vote – their jobs, their homes, their children, and even their lives. The film also stars Ben Whishaw, Anne-Marie Duff, Brendan Gleeson, Romola Garai, and Natalie Press. "Suffragette" is directed by BAFTA Award winner Sarah Gavron from an original screenplay by Abi Morgan.