Real People, Real Life is a locally hosted TV show about people in our community. I was honored to be a part of the show this last Monday, January 19th to talk about being the parent of a child with autism.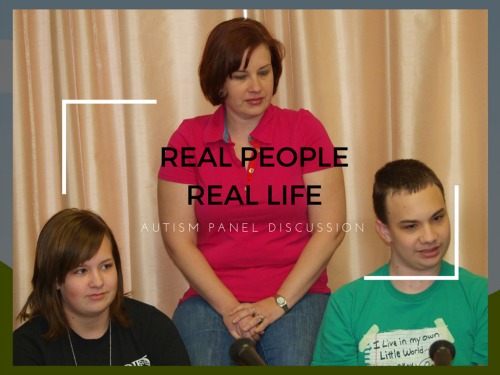 Below are the two 15 minute segments as shown on youtube. I took notes while watching the show and have posted my thoughts along with links to resources and guests below.
The first video has a segment discussing local government, so if you only want to watch the autism segments, skip ahead to about minute 14.

David is 16, but we thought he was younger when we met him in the green room. He and his sister seem to have their ages mixed around. One seems older than the other one, but it's not what it seems.
Notice the difference between what David and his mom say about social situations and school.
He either doesn't notice, doesn't care or doesn't know how to deal with it. I think those are all emotions that my own daughter who is on the spectrum would share.
Family Dynamics
According to David's mom, Samantha, Emily (13) steps in and mothers her brother often. I see this in my home too with my older daughter taking on the mothering role.
Social issues
I can't say for David, but my daughter wouldn't get out of bed, get dressed, and go to school daily without someone getting her up. She'll sleep right through the alarm, and then if she doesn't want to do something, she won't do it on her own.
Minute 21: "normal" Discussion about looking normal vs being normal. Normal, typical, We all have issues.
Minute 22: She has had a long-term romantic type relationship.
She talks about school being very difficult and being bullied when she was younger. I heard the question as meaning "did you deal with it differently than a guy would have?" but Erin's response was that both guys and girls were the bullies.
Something not mentioned here, but talked about in the green room before taping, is that Erin is finishing college at WSU this may. Graduating without being in debt is how she said it.
Minute 24:30: Michelle shares how much of the world is ignorant and, therefore, selfish, about her perception of people's behaviors, especially when it comes to badly our kids can sometimes behave in public.
Minute 26:20:  Emily talks about her experience being the sister of an autistic person.
The second half of the segment starts right off with no intro. 

Emily is talking about recognizing autism in other people before they ever tell her. I have to agree. My radar is on high alert now and I see behaviors in others all the time.
Minute 2:22:  I talk about how I came to own the blog and start to cry. I always cry even at nonemotional stuff. Damnit!
I'm surprised at how much hand-waving I do, too! I had no idea how much I use my hands for expression.
Minute 4:37:  Resources.
Our doctors give a diagnosis and then throw us to the world without a plan or guidance. We have all struggled to find the answers to help us raise our children. We discuss some of the local and national resources that have helped us.
Families Together – Parent to Parent support
Samantha talks about how hard it is to get the schools to help our kids.
IEP – individualized education plan (erin jumps in here and reminds us that the IEP can go to College with your kids). Look for federal laws, compared to state laws.
ADA – americans with disabilities act
Michelle mentions parents with PTSD and how badly this can affect parents. I wrote last year on the blog about PTSD in parents of kids with autism because it's a very real thing.
Minute 10:12:  Sherry talks about being a live-in grandma and tag-team parenting. Also discusses being raised in the time where society didn't acknowledge "special needs" , but labeled them as being bad kids.
If you want to contact anyone from the show, our contact info is mentioned at the end of the segment.
You can catch Real People, Real Life every week on the facebook page.