2016 started without much planning, and without a focus word. 2015's word was Family and I felt like that really came together pretty well. If you don't know what I'm talking about, let me fill you in.
A few years ago I read about not making new year's resolutions, but instead, choosing one word that would guide you and help you focus your efforts in everything you do.
But, 2016 had little hope for focus or resolutions. My ex-husband died just a few weeks before Christmas in 2015. It was sudden, unexpected, and complicated. It left my daughter's and I feeling lost and empty and scared.
However, it also allowed me to have some kind of internal space. It's been years since I took care of myself mentally or physically. I've been so busy taking care of my girls for the last 18 years that I often had nothing left over for me. It's a common theme among parents of kids with special needs, so I'm sure it's nothing you haven't already read from a lot of other caregivers.
My Back and Teeth
I didn't set out with self-preservation in mind. But, it became a necessity. My back has been bad for years, but it started affecting my knees. So, I spent months at the chiropractor. I also did 12 weeks of Pilates with my cousin and I loved it. But, my teeth went to hell and I had to spend money on that.
In july, I had a tooth removed and something about that surgery – yep, knocked me out in order to get into my small mouth to pull the back tooth – affected my health. I'm thinking I didn't breathe well during the surgery because my blood pressure went high and stayed high.
Here's the rub. I didn't have a good doctor. I didn't have a doctor at all. My children have had access to a good doctor and other health care for years because they qualify for our state's insurance. But, not me. Something is wrong with the system and that's something to discuss another time…..
A Regular Doctor Who Gave a Shit
Through some kind of miracle (actually, just some caring staff at our local one-off clinic at the grocery store) I was referred to a low-cost clinic that works on a sliding scale based on your income. And, the real miracle is that the Physician Assistant I was assigned to actually listened to me and seemed to give a damn.
One of the things I've dealt with throughout my life is having a doctor blow off my symptoms or experiences. It didn't matter if the doctor was male or female. But, this doctor asked me great questions, listened to what I told her I'd experienced over the last 10 years and then did tests. And more tests.
Pretty early in the relationship, she put in a referral for me to see an ENT. (ear nose throat doc). It took two months, but eventually, I was seen. The doctor said I had a deviated septum. I couldn't breathe out of the right side of my nose because the inside of my nose was bent and blocking it. This is something I've brought up to several doctors over the years. It was always dismissed as a cold or alergies.
Nasal Surgery Too?
This doctor didn't mess around. My surgery was scheduled for 2 weeks later the very first day he met me! I was scared to have the surgery because I've woken up early during a past surgery, and because It was obviously hard on my body when they put me under in order to pull my tooth.
After I recovered from surgery I went back to my regular doctor (the PA) and we talked about depression and anxiety and PMDD. It was something that we talked about from the beginning, but I wanted to see how much breathing better would make my symptoms.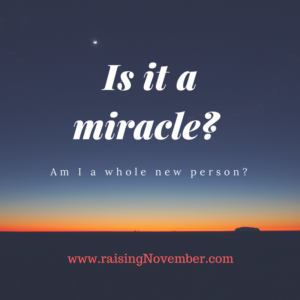 Depression and Hormones, UGh!
PMDD runs in my family. It's severe form of PMS. It has a range of symptoms, and I've had all of them at one time or another since I was young. The symptoms got better after I had my daughters, but have been showing up more and more often over the years. It's real folks. There is nothing about it that is "in my head". The pain, nausea, the headaches – all feel like my body is violently rejecting some foreign invader.
So, the next step was adding a pill to the allergy and high blood pressure drugs I've been on since shortly after August.
Adding another drug wasn't something I took lightly. I tend to do well taking pills for a while, then forget to do it. I've also experienced not so fun side effects of drugs. But, when every day presented me with nothing to look forward to, I figured It could only get a little bit worse.
Luckily, the pills have worked from the start! Is it a miracle? Am I a whole new person? No.
I do feel like getting up, planning my work (at home) and taking care of the house, my kid and myself though. It was such a subtle shift for me that I wasn't sure it worked. After a week of actually being excited to plan these blog posts and work on my web design business, I realized that I hadn't been excited about anything in a long time, and that the drugs must be working.
Other Good Things
Throughout 2016 there were some other awesome things that happened, like our little family getting stronger and forming some new bonds, which I'll talk about in upcoming posts. We also got to travel a bit, going to see my oldest daughter three times, which I was afraid wouldn't happen at all.
Nove started her Freshman year of high school which has been a challenge in many ways, and yet we've all seen some wonderful growth too. I'll be talking about those things too.
Lastly, I'd like to tell you that I'll be sharing how we've all dealt with (or not) our grief of the people we lost this last year. In the next few weeks, I'm sharing a series about grief and there will be a companion booklet and workbook that you can download too.
Part of our journey through that grief has been about forgiveness and I'll be sharing in February a Forgiveness Challenge that I think can help you move forward in your life and let go of the past hurts, perceived failures and people that hold you down.
What was your year like? I'd love to have you leave a comment below and share your journey.