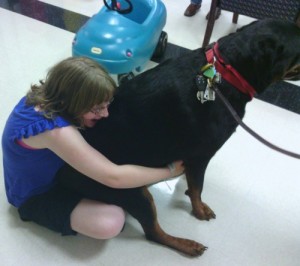 Maybe you missed our posts last week? They didn't happen because I spent four days in the hospital with my youngest daughter, the one with autism. It was a first for us, though she's been in the ER lots of times, this was our first overnight stay. It was actually kind of fun.
You can read an account of each day by using the links below.
I wrote about the experience at a micro blogging site called bubblews. But, thinking hard enough to write anything really constructive while in a hospital room with Disney TV on? Fuggetaboutit!
I know there are moms out there who practically live in the hospital with their kids's complicated medical issues and I'm so grateful that I don't have to. However, the experience wasn't that bad. Maybe we got a good hospital? Maybe our nurses were extra awesome? I don't know…… I probably just needed a vacation from my everyday life. I mean, they did change the linens and watch her while I went to the cafeteria to eat.
It was kind of like living in a hotel room for the week, but without room service! 
The whole week we were there, I was a little nervous to go to sleep. Partly because I didn't know how well she was breathing, and partly because I was afraid I'd wake up to the zombie apocalypse.  Watch the first show of the Walking Dead show if you don't know what I'm talking about.
They did bring in some awesome therapy dogs before we left, and I got a couple funny photos with Nove and a huge rottweiler that likes to sit in people's laps. The funny thing was that she was more concerned and excited about keeping the toy wagon that she'd wanted all day long, than she was interested in petting or playing with the dogs. The dogs did me a lot of good though, and I'd liked to have spent more time with them. I really missed our dogs while we were there, but Nove seemed to only miss her guinea pig and even then, not that much.
There were lots of things that occurred to me during our four day stay at the hospital.
What would we do if it got hit by a tornado?
What happened if a plague broke out while we were there?
What if a crazy, psycho started shooting up the place?
Zombie apocalypse = already shared that one.
Those are the kinds of disasters that are harder to prepare for. In fact, we hadn't grabbed any overnight stuff for her or me before taking her to the ER that day. Her doctor had said to take her to the hospital ER so they could do more tests, but she didn't say that they might keep her overnight. So, we were miles away (like 15) from home with no meds, no clean clothes, just nothing. If I didn't have at least some family here, we'd be in serious trouble – or at least stinky and bored.
I'm glad to be back home.