About 2 weeks ago I got a call oen a Sunday evening from someone who said they were with our local charity organization that supplies food and gifts for the less fortunate during the holidays. She said my daughter's name had been suggested as a family who might benefit from the supplies which included food and gifts. (I said that already, sorry)
So, she talked with me some more and asked if I had other kids so I told her about Nove, who has Autism spectrum disorder. The lady verified ages and then wanted to know if we would rather pick up the items or have them delivered by the town firefighters.
Are. you. Kidding? I almost jumped up and down myself because Nove LOVES the firefighters and their truck even though it has bright lights and a loud horn and siren. She's been to the station with her school, tried on the firefighter coat and hat, and even stood in their humongous boots.
Tonight was the night! I had warned her that Santa's helpers would be coming by and that they'd be driving a firetruck. She thought the elves would be driving it, and then asked if she could open a gift when they brought them.
After dinner, Gramma came down the hallway and said she heard something so we opened the door to flashing lights and 2 matching firefighters named Cory. Okay, not exactly matching, but they really were both named Cory. Nove wasn't shy and was hopping and up down while showing them to the kitchen to put down the over sized box of food.
I asked if she wanted to go see the truck closer and one of the Corys put her in the driver's seat, then they let her push some buttons which made the variety of horns blare! I feel bad for my neighbors tonight. She was giddy! I forgot the camera. Dangitalltoheck!
I really wish I'd had the camera because it's been a while since I've seen her so happy. It made my day and I think it made hers.
Now, we didn't exactly need the food and gifts, but, I tend to let my pride get in the way sometimes and have put off my own health care for far too long. If I don't have to buy some groceries for a week because someone was nice enough to donate some to me, I need to learn to accept help no matter where it comes  from.  I also don't have the money to buy the experience of the big firetruck, lights blazing with horn honking ability, even if it were available to buy.
That my friends is the Christmas spirit, small town style.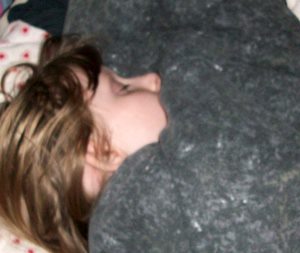 Apparently this was a long day. She was out by 8pm. She even said "I want to get into my bed now".