Money stresses me out.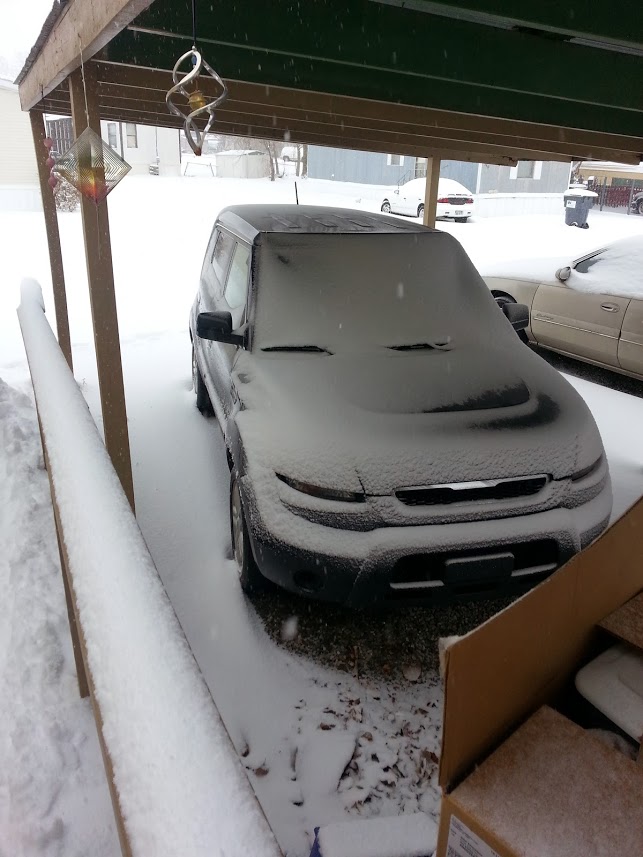 I know I'm not the only one, and I know it doesn't cause the same kind of anxiety for me that it does for some people, but it defineately stresses me out.
Every year at tax return time, I'm usually feeling a little less stressed about money than the rest of the year. Not this year. Last October, we had a tree fall on our home, my car is falling apart and my youngest now goes to school almost 20 miles away, my household appliances have decided to quit and my teen needed all kinds of stuff for school.
I'm not sure how much I've ever shared on this blog, but I'm a single mom and we are probably right on or below the poverty level. (I don't pay much attention to those kinds of words) I only work part time partially due to the youngest one having autism and not having good reliable care, and partly because it's just the way things are at my job. I don't make much money – not for providing for 2 kids and my mom. Last year, maybe it's been 2 years now, my youngest qualified for disability! That money has helped in many ways, but it's still not enough to keep up with an aging home and car.
However, let me go back to that feeling of safety at tax return time….. Every year when I get tax returns back, I pay for our lot rent for the entire year. If I need to fix a car, I do it then. Usually, it means buying a different car, but they've always been older ones with high miles because you just can't buy good cheap cars anymore. I pay for any other big yearly payments like property taxes and house insurance out of the tax return also. Last year, I used 1k to help pay to send Nove to special needs summer camp. (yep, help – it costs nearly 2k for 9 weeks of camp!) Paying for those things one time per year takes away a LOT of stress from trying to pay monthly. I couldn't do it if I had to pay for all those things every month.
A New Car Whether I Like It Or Not
Circumstances a little over a year ago deemed it necessary to buy a car I hated and that needed way more work than it was worth. This thing had been driven to death and put away wet (as they say about horses). It would cost more than I paid by the time I repaired what was wrong. I knew that last year, so I began to prepare. Since I've been divorced and filed medical bankruptcy before  divorce, I had no idea what my credit looked like. Fortunately most of that had fallen off my record, but that meant I had little or no credit history. So, I did some research and got some good advice from someone else who had been throuh this.
I got a credit card. I used it wisely. Bought gas, or groceries and then paid it off right away. That is until my kids needed stuff that I had no paycheck left for! Now my card has a pretty good balance on it. It's not thousands of dollars, don't worry. I plan on paying it off with my tax return and then putting it away. It served its purpose of building my credit enough that I qualified for a car loan and the interest was less than 6%. My boyfriend who has a better credit score than I do was given 5%, so I don't feel bad.
But, yes, I said a car loan. We went shopping this past weekend because I doubted that my car would last much longer. It groaned when I turned to the right just going around slight curve in the road. Turning into the McDonald's drive way caused a crunching that I just knew was going to cause the tires to fall off right there while it blocked traffic! It didn't, we made to the dealership to trade it in for a newer car. I've done my research for the last year, though. I looked at hundreds of reviews about potential cars. I had numerous emails with my sister in law about how to get what I wanted at the right price – she's a pro-negotiator. I knew what I wanted – sort of.
I even went to look at one last summer, and while I went to the dealership this time to look at another model, I ended up with what I looked at the first time.
A Kia Soul.
Am I worried about having payments for the next 5 years? Yes. Is it managable? Yes. Will this one last more than a year or two? I sure hope so!
No, it did not come with the hamsters from their commercials, which Nove was quite dissapointed about. 
The part that is probably the hardest to swallow in regards to the monthly payments is that I want and need to add my teenager to the insurance. Even with good grades, it will nearly double my insurance rate! There's just no way around it with her new school schedule though.
For now, I'm happy with it. I suppose I need to stay happy with it because I have to pay for it for the next five years.
The above was written several months ago. I've now had my Kia Soul since March and I like it. I'm happy with it. But, this time of year is when money feels tight even if I have paid everything off – the monthly bills still come and there are extras to pay for and household items to fix or buy new.