Last month I shared how I became a KiteReader.com ambassador and as part of that program, I get to read and review children's ebooks. This is my first review, based on the book my 11 year old daughter (who has autism) chose.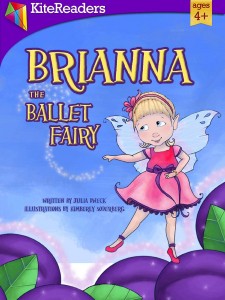 While this is a book meant for younger readers, my daughter enjoys an easy, yet fun read. She loves bright, colorful pictures too, so this book was a delight for her to read.
Each page of the kindle edition of this book has new rhyme and a great picture of Brianna, the ballet fairy. The book is about , on a broader scale, using shortcuts when you don't believe in yourself, or that what you have naturally is good enough.
I think it's a powerful point to make, especially for our children with special needs.
Books synopsys:
Brianna wants to dance before the queen
the most lovely twirling that can be be seen
when her wish is known by a pixie listener
can she protect herself from the horrible trickster?
From a parent's perspective, I can see how easy it is for an outside influence to take our kids off track, make them not believe in something they love doing, despite their ability to do it to a pre-set standard. I think this book can be used as a great and fun example of this.
Even if you don't have an e-reader or Kindle device, you can download an app for your computer in order to read the ebooks from Amazon. Free Amazon Kindle Cloud Reader App
Here's the book's movie trailer!