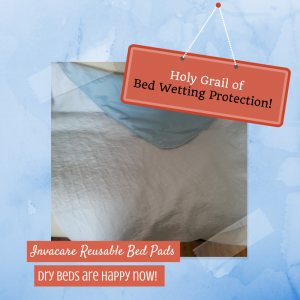 Every morning, I get my daughter out of bed. Some days she gets up on her own. Some days I have to coax. Some days I have to drag her out.
The only thing that does not change is that her bed is wet.
Well, maybe 1 out of 10 times, it's  not wet. Yes, she wears a pull up at bed time – a grown up size, even. But, apparently, that is still not enough.
We used plastic liners, and even vinyl tablecloths to try and protect her mattress, but they weren't great. I bet you've been there if you are reading this.
This is pretty much a fact of life for families who have a child on the autism spectrum. It's pretty typical for a non-typical kid like my daughter to have a lack of bladder control.
But, there is hope for dry mattresses in the world, and I have proof!
At the beginning of the year, January 8th to be exact, I purchased the Invacare Reusable Bed Pads
 from Amazon. It's worked perfectly, or nearly enough so that I want to sing its praises to you and every other bed wetting child's parent out there.
The only drawback to the one we got is that it could be bigger, but that's only because my daughter is currently sleeping on a full size futon right now. When we move her to a single, the bed pad will be the perfect size!
These work so well, that my mother who has occasional incontinence, bought one too.
This Reusable Bed Pad gets washed daily (every. damn. day.) whether we want to do laundry or not. 11 months later, it still works great and keeps her mattress dry. We've always put it under her sheet though, in order to keep it in place because she tends to move around a lot at night during sleep. With this method, we have to wash her sheets daily too, so you might try it on top of the sheets if your kids aren't restless sleepers.
Do your kids have bed wetting problems? Please share what you use in the comments below.