A couple weeks ago I joined the campaign through Swerve.com for Card.com in order to try out their pre-paid credit card service. I thought about this choice quite a bit before joining the campaign though, because I don't have a need for a credit card. Especially one that doesn't report a credit score or payment history, and I have a local bank which issues a debit card already.
So, why join the Card.com campaign?
Well, because they had some really fun card designs and I know many of you need this kind of service! How many of you have crappy credit and can't get a bank account or real credit card? I was there not that long ago.
 Anyway, after being accepted to the campaign I got an email with instructions to pick a card on their website, sign up for it, then let them know what I picked and what my account info was so they could activate and load my card. They loaded $25 to the card as part of my agreement to test this service out and report my experience.
Getting your Card.com debit card
Right off the bat, there was a bug. The autism card I wanted wouldn't let me pick it. So, I wrote back to my campaign contact who alerted their tech team, and they got it fixed right away.
There were a lot of cards that were awesome, so I actually thought about just picking another card. I mean, they have The Walking Dead theme cards! If they'd had a Sons of Anarchy card, I might have actually caved in and taken it.
Anyway, once the bug was fixed, I picked my card. I had to give some personal information, but not that much. The site was easy to walk through. When I was done, it said I would receive my card in 7 – 10 days ( I think). Sure enough, my card came in an envelope about a week later and I went to register it on the website. In the envelope were the card and a post card style information packet with information to use a specific link to activate the card.
Loading your Card.com card
Now, here's where the difference comes in from me to you. I already had money loaded for the promotion. You would, at this point, need to actually load your own money to your card.
There are a few ways to do it.
1. You can set up direct deposit through your employer or federal benefits like social security!
2. You can transfer money from paypal to your card.
3. You can load your card at a local Western Union location.
Using and Tracking your Card.com card transactions
So, now that I've had it open for a week, I've used the card in several places locally. The feature I like best is pretty normal for any banking/credit card account. I can see my purchases online. Here's my screen capture taken on my account this morning.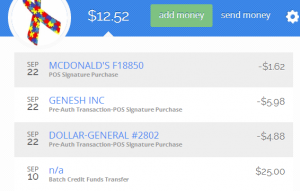 You can also have your account send your phone a test about activity, which would be a good idea to avoid fraud.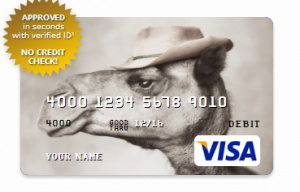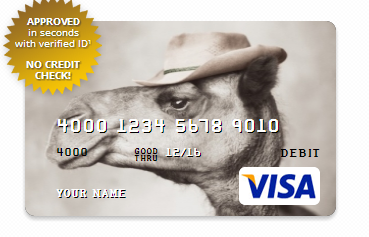 More about how it works; https://www.card.com/how-it-works.
This is a debit card, like the one from your bank, and you can use it EVERYWHERE Visa is accepted — except it's way cooler and cuter than your crumby old bank card.
 Free to order, activate and load
Free app and check deposits from your smartphone
Free direct deposit
Free card-to-card transfers, any time, anywhere, in seconds
No overdraft fees — never goes negative!
Safer than cash – 24/7 support, Visa fraud protection and 100% FDIC insurance on funds
No debt, financially responsible, no interest/credit/APRs
No credit check and approval in seconds
22,000 in-network ATMs
Thousands of cool, unique card designs to choose from, including brands like: Garfield, Popeye, Betty Paige, James Dean, Care Bears, Walking Dead, Star Trek, Autism Awareness, Breast Cancer Research, Shark Week, Where's Waldo, Doodle Jump, THree Stooges, Nancy Drew, etc.
This card is not a gift card, so you can't give or receive the card as a gift – It's better than a gift card because you don't just use it once and toss it, but instead get to replace your boring bank-issued debit card and show it off over and over.
Free for 30 days – then $5.95 monthly fee, which we waive when you direct deposit over $800 in the previous 30 days.  This fee is the same as the Walmart prepaid card and way less than many of our competitors. It's also much less than overdrafting your bank account, paying for a checking account or using a credit card.
So, I'm curious. Do you use a pre-paid card like this and if not, does your bank give you the option to use a cute or fun or purpose driven graphic on your card? My bank doesn't, but I think my regular Visa credit card does, though I just got a basic, boring, gray card.