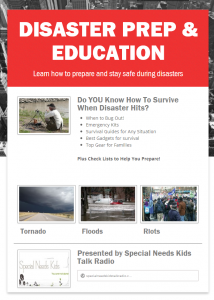 It's National Disaster Education and Preparedness month! Since I'm no stranger to natural disasters – and a few man made ones too – we'll be covering how to prepare for disaster for you and your family. Throughout July, we'll also be taking a look at resources to learn more and products and services that can specifically help you with your special needs kids and family.
You can pick up our new Disaster Prep & Education ebook by using your email address. Do that through the form on the right side of this page or down at the bottom of this post. Here's what the book covers.
Do YOU Know How To Survive When Disaster Hits?
When to Bug Out!
Emergency Kits
Survival Guides for Any Situation
Best Gadgets for survival
Top Gear for Families
My favorite part is the Check Lists to Help You Prepare! While you shop, you can check off the items on your list. There's plenty of room to add items to the list also.
I've also included a few resources in the book for more information specific to the special needs community.
If you have specific questions about preparing for disasters, could you ask those in the comments section? I'd like to try and find answers to really specific special needs questions. 
Here's a good place to start when it comes to preparing for the worst: http://www.redcross.org/prepare/location/home-family/preparedness